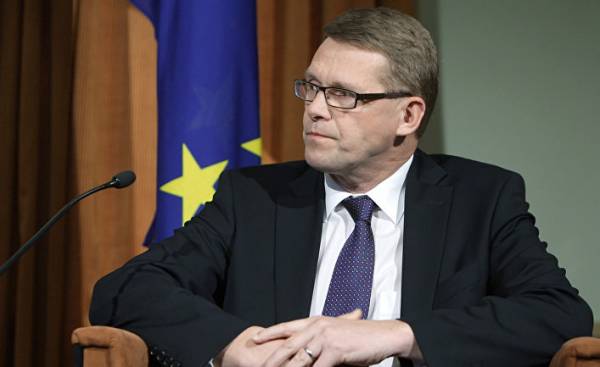 The President of Finland is obliged to maintain relations with Russia and in difficult times, says the presidential candidate of the Finnish party "Centre" (Suomen Keskusta), Chairman of the parliamentary Commission for foreign Affairs Matti Vanhanen (Matti Vanhanen).
According to Vanhanen, the issues of relations with Russia, Finland operates within the framework of EU policies. Finland involved in anti-Russian sanctions of the EU and carefully adhere to them.
"Finland is part of EU, and she shares the position of the European Union in its relations with Russia," says Vanhanen the online edition of Verkkouutiset.
"Since we are neighboring with Russia, it is natural that we have direct, two-way communication. The actions of Finland in relations with Russia are contrary to the policy of the EU."
Vanhanen stresses that the dialogue between Finland and Russia is required to inform other EU countries.
"It is important that other members of the Union knew how we communicate with Russia."
Dialogue, according to Vanhanen, it is particularly important to maintain during difficult times.
"It is quite natural. Playing dumb doesn't accomplish anything".
"I have quite a lot of experience dealing with light and difficult issues with Russia. Of ambiguous situations can come out only by talking directly."
"Because of the customs problems with timber supply the plants closed"
Matti Vanhanen was the Prime Minister of Finland in 2003-2010.
"During the time when I was Prime Minister, we have had many difficult situations with Russia. Then we had, including problems with the supply of wood, which in Finland was shut down entire plants."
A few years ago, President Vladimir Putin has decided to make Russia an attractive country for investment, increasing customs duty on exported from Russia wood. Timber imports from Russia to Finland collapsed, which was closed many factories.
According to Vanhanen, Finland then often directly communicated with Russia. The EU informed about what is happening, because the EU has a common customs policy.
"However, we could not give the European Union the decision of vital issues for us. We could not hope that the EU would be able to help us enough".
This also applies to other political aspects, such as security issues.
"We follow the common policy of the EU, the formation of which we ourselves participated. When we act directly, act in accordance with the EU policy".
Forms of cooperation need to develop
According to Vanhanen, Finland will be able to improve their level of safety due, primarily, wise and long-term projects of foreign policy.
"If it fails, you will need military cooperation".
According to him, the continuous development of its defence forces is inevitable and much more important than modern, international cooperation in the defense sphere.
EU seeks to strengthen the common defense of its member countries. The Commission proposes to annually allocate 1.5 billion euros for the defense industry and the development of defense from the General budget of the European Union, starting in 2021. The European Commission hopes that the EU will be able to jointly develop a defense that will receive funding from the General defense Fund.
In addition, there is increased cooperation of Sweden and Finland in the sphere of defense. The Minister of defence of Sweden Peter Hultqvist (Peter Hultqvist) said in early January at a conference in Selene that he wants to continue to strengthen cooperation in defense sphere with Finland. However, according to him, the creation of a defence Alliance of countries in the future is not expected.
"We need to develop the defense sector with the EU and bilateral defence cooperation with Sweden and the USA. It is necessary to cooperate in the framework of partnership with NATO".
Vanhanen stressed that these forms of cooperation are not mutually exclusive.
"It's not alternative options, and individually none of them will give us just what we want."
To provide assistance and to ask for help
Vanhanen mentions the international rapid reaction unit JEF (Joint Expeditionary Force), led by Britain. In late June, Finland decided to join this unit. Military unit JEF can take part in military operations worldwide, including in Finland.
"Thus, it improves the interaction of the armies of the countries-members of the JEF. This does not contradict policy of the EU, NATO and the countries of Northern Europe".
Vanhanen recalls that none of these forms of cooperation do not apply to so-called system of guaranteed mutual assistance, under which the country should come to help each other if necessary.
"If we have no cooperation in practice, and we do not have any information about each other, it is very hard to imagine that in the event of serious danger would be easy to arrange."
"In times of peace need to cooperate to make technically possible the acceptance and assistance".
A set of laws about providing and receiving assistance entered into Finland to force in July. A few years ago Finland had acceded to the Lisbon Treaty and assumed the obligation to implement its articles on mutual aid and shared responsibilities that affect all members.
Comments
comments