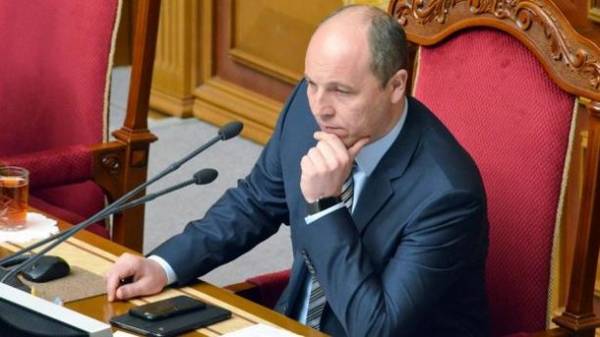 The head of the Verkhovna Rada Andrei Parubiy said that the attorney-General's submissions on removal of inviolability from deputies who entered the Parliament, will be considered, starting from July 11. He said this at the conciliatory Council.
"The regulation Committee last week considered a number of submissions of the attorney General regarding people's deputies of Ukraine. According to part 1 of article 221 of the Regulations of the Verkhovna Rada of Ukraine, the submission is considered and voted on at the plenary session of the Verkhovna Rada in its day, but not later than seven days after the decision of the Committee. I want to remove the suspense, which lasted for a week, and to announce that all representations made by the Prosecutor General of Ukraine, will be discussed in the session hall. Tomorrow – the seventh day from the first performances. So on Tuesday we're required by law to begin its consideration of questions of withdrawal of parliamentary immunity", – said Parubiy.
See also: Became known when Parliament will consider the performance on Dobkin
He also did not rule out that perhaps all the ideas can be seen in one day on Thursday.
"To me, the initiative was put forward by representatives of the coalition, so we waited for the review of the last submission to the Deputy Dobkin, which has not been considered that all representations to consider on Thursday. But the decision about this will be able to take only the Verkhovna Rada. Members of the coalition will submit the relevant resolution, because it should be the decision of the Verkhovna Rada of the transfer. If Parliament will support the idea that all views be considered together on Thursday, we will consider them on Thursday. If the proposal is supported by hall, tomorrow we will begin consideration of the submissions on removal of parliamentary immunity", – said the speaker.
Recall, June 21, Prosecutor General Yury Lutsenko has submitted for consideration Parliament's views about the prosecution of five people's deputies: Oles Dovgy ("will of the people"), Andrey Lozovoy (Radical party), Yevgeny Deydey and Maxim Polyakov (both "people's front"), Borislav Rosenblatt (PPB).
Note that seven days have passed since the first consideration of presentation at the Dade, but its regulation Committee refused to make in the session hall.
Comments
comments