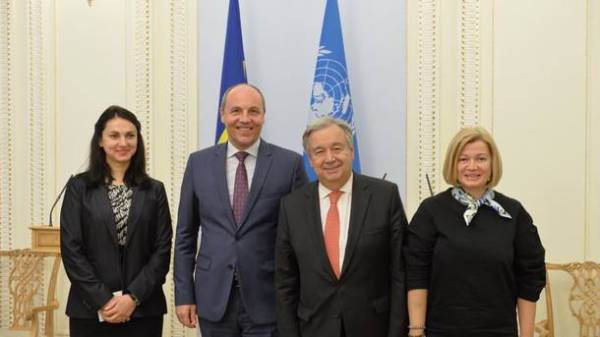 The UN Secretary-General antónio Guterres during a meeting in Parliament with his leadership spoke about the situation with the process of exchange of prisoners Ukrainians illegally held in Russia and ORDO. About this in Facebook following the meeting, said the first Vice-speaker of the Verkhovna Rada, Ukraine's representative at the talks in Minsk, Irina Herashchenko, the TV channel "112 Ukraine".
Gerashchenko reminded that in the Donbass unlawfully deprived of their liberty 132 Ukrainian, in Russia – 10 political prisoners from Ukraine, as well as dozens held the Crimean Tatars.
"Informed the Secretary General that the release of the hostages actually blocked for a year, the last managed to release just UN representative Yuri Suprun, who was illegally held in ORDO six months, not providing access to information . Urged the Secretary General, that he personally, and the UN has taken a more active position regarding the immediate release of all illegally detained in IDLO, and in Russia, joined the work together with the ICRC, whose mission is not allowed in prisons in the occupied territories. Stressed that in all the years of Russia-inspired conflict in the Donbass, issues of access to international humanitarian missions in the occupied territories remain a problem," – said Vice-speaker.
According to her, also focused on sexual crimes in the combat zone. Gerashchenko was asked Guterres, on a visit to Ukraine its special representatives for the prevention of sexual crimes and protection of the rights of children.
As you know, Mr. Guterres is visiting Kiev. He has already met with the President and Prime Minister.
Comments
comments