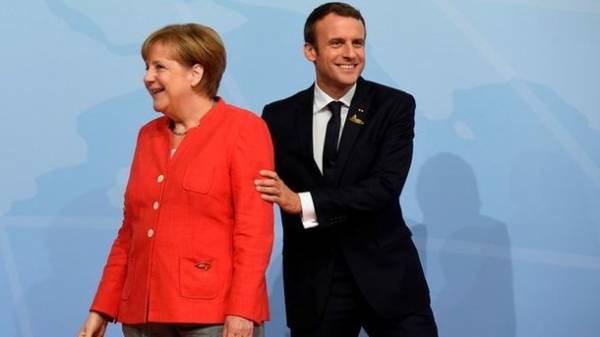 The Federal Republic of Germany Chancellor Angela Merkel said that together with the President of France Emmanuel Macron are set to continue negotiations in the "Normandy format" to seek resolution of the situation in the Donbass, despite the slow process.
She said this at a press conference following the summit of leaders of the countries "Big twenty" in Hamburg which was broadcast by the English-language version of the TV channel Deutsche Welle.
Merkel recalled that this morning held a trilateral meeting with the leaders of Germany, France and Russia, and for Him it was the first talks in this format, as he recently took over as President of France.
The German leader recalled that at today's trilateral meeting it held a telephone conversation with President of Ukraine Petro Poroshenko.
"We said Emmanuel macron and I – we will continue this process together with Mr. Putin, and it is obvious that this process is very slow, there has been stagnation, and sometimes even be backward steps," said Merkel.
According to the Chancellor, despite this, "we want to arrange a telephone conversation for the four sides."
"We continue to adhere to this format, there is no other Foundation and no other way or possible format," said Merkel.
We will remind, today, on 8 July, on the sidelines of the G20 summit held talks Merkel, Putin and Macron. The interlocutors stressed the importance of implementing ceasefire in the Donbass.
The Chancellor of Germany said at a meeting with Macron and Putin discussed the future of the "Normandy format" on settlement of situation in Donbas.
Comments
comments