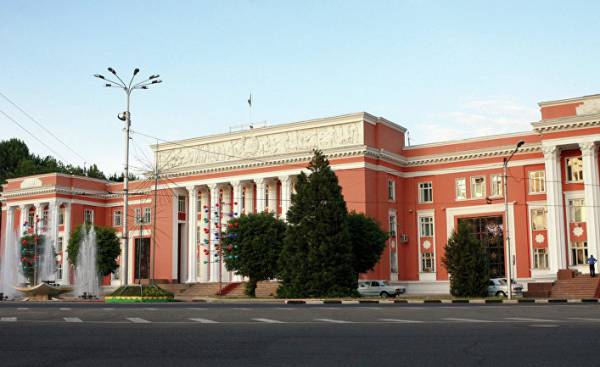 The smell of pilaf and freshly baked scones was felt already in the stairwell of an apartment building in a small town East of Warsaw.
Such places as Minsk Mazowiecki, located about 40 kilometers from the Polish capital, over the past few years become home to many families from Tajikistan, including the family of Muhamadjon Kabirov. Forced to leave the country because of increasing political repression, thousands of families rebuilding life abroad.
Although the poles are sometimes wary of outsiders, family members Kabirov say they felt no hostility. On the contrary, their life in Minsk Mazowiecki flows peacefully and even a little boring, I couldn't say about her home life.
Kabirov and his family are members of the Islamic Renaissance Party of Tajikistan (IRPT), which was banned in 2015 after Tajikistan's government accused her of involvement in the alleged coup attempt. At this point in relation to the IRP has already launched a campaign of intimidation, but after the announcement of the IRPT out of the law, a wave of arbitrary detentions of its members. Hundreds of people faced with the threat of criminal prosecution on trumped-up charges, and many chose to flee the country. It is easiest in the EU it was possible to get to Poland. Some were granted asylum, but many are still waiting for the decision on this issue.
Kabirov came to Poland immediately. Before coming to this country at the conference at the invitation of the OSCE, he lived in Russia, where he worked as the political editor in regional television (CATV). In February 2016 at the CATV office was a RAID by Russian law enforcement agencies, and then the station was closed at the request of Tajikistan.
"When they closed the office was difficult as we lost all our equipment. They confiscated everything," said Kabirov.
Getting a Schengen visa and an invitation to go to Poland, he decided to leave and not regret it. Family Kabirov luck. They have the opportunity to rent a separate apartment in a quiet area not far from Warsaw. They attend Polish language lessons and establish contacts with local civil society organizations. Kabirov is planning to create a group to assist Tajiks living in Poland.
Meanwhile, the majority of new arrivals — lucky, who was allowed to enter Poland and to apply for asylum have to stay in collective centres, where almost no personal space and practically nothing to do.
In such a situation the lawyer Jamshed Jers who the wrath of the Tajik government, defending those arrested were members of the IRPT. Brother Erowa, Buzurgmekhr, is serving a 25-year prison sentence handed down under a whole bunch of false accusations: from fraud to contempt of court. In Tajikistan Jamshed Erowa been arrested three times on various charges.
"I directly said: "do Not think that you may be shown mercy. We collect evidence to use against you, just wait". But then Amnesty International actions have been organized, speeches, rallies, protests and pickets in support of me. They attracted the world's attention to my case," he said EurasiaNet.org.
In terms of waiting until the decision on granting him asylum.
According to the Polish Association of legal intervention, in 2016, a refuge in Poland received 882 Tajik citizen. Another 649 people were refused. But despite the high percentage of failures, members of the Tajik opposition continue to go to Poland.
Currently, a group of members of the IRP was founded in Berlin, Vienna and Warsaw, and had also opened two offices in the middle East, and the party gradually rises from the ashes.
Muhammadsaid Rizo, member of the Supreme Council of the IRPT, said EurasiaNet.org that is now in Poland lives about 200 active members. Despite the growing anti-immigrant sentiment, Poland has been a safe and welcoming place. "I like Poland. Most party members live here now, and that's why I decided to stay, said Rizo. — When I saw the country and saw here people behave, I decided to stay."
Poland began to be regarded as suitable locations for potential asylum seekers only recently.
"Many activists and party leaders thought that need to go either in Russia or in countries in the Middle East because there is a Muslim community, where it would be easier to adapt. They thought that these countries will be safe and peaceful. But unfortunately everything turned out differently," said Kabirov.
In the fall of 2016, Turkey has banned Tajik opposition activists to hold demonstrations on-site. After that, the President of Tajikistan Emomali Rahmon began to ask Ankara to give members of the Tajik opposition, whom he called "terrorists." In October of the same year at the request of the Ministry of foreign Affairs of Tajikistan in Istanbul was closed Tajik opposition website Payom.net.
The IRP representatives said that their main priority currently is to attract world attention to political repression in Tajikistan and facilitating the introduction of EU and other countries sanctions against the Tajik ruling elite. After receiving in February a leader of the IRP by Muhiddin Kabiri EU asylum party can come to grips with lobbying for sanctions and other measures.
In April Kabiri came to Poland at the first European Congress of party members. "The Tajik authorities are no longer partners in dialogue, — said Kabiri. — Most politicians and people in the West consider Tajikistan as a transit zone on their way to Afghanistan, not as an independent state. That is why the Tajik authorities were able to deal effectively with the party".
Comments
comments