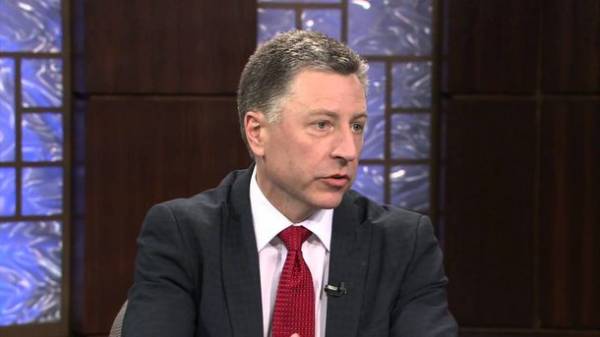 Today, July 7, the US state Department made an important announcement: the state Department first created the position of special envoy for Ukraine, and took it Kurt Volker.
Walker was born in 1962, he is a specialist in the field of international relations.
According to open sources, in 1986, he worked as an analyst in the CIA, and since 1988 – the U.S. state Department.
In 1998, Volker became first Secretary of the American mission to NATO, and in 2005-m – the Deputy assistant Secretary on Affairs of Europe and Eurasia.
In 2008-2009, Volker held the position of U.S. permanent representative to NATO.
Recent years, Walker worked at the International Republican Institute McCain.
The American diplomat has repeatedly urged the international community to actively counter the challenges from the Russian side.
"Russia is trying to destroy the order established after the cold war in Europe, changing borders by use of military force. Russian troops occupied a part of Ukraine, Georgia and Moldova, and brazen show of force, Russia just annexed the Crimean Peninsula," – said, in particular, Walker in April 2017.
Earlier issues of Ukraine in the American foreign Ministry supervised by the assistant Secretary on Affairs of Europe and Eurasia Victoria Nuland.
Observers note that this appointment is announced on the background of weak progress in resolving the conflict in the East of Ukraine, as well as in the day must pass the first meeting of the presidents of the United States and Russia Donald trump and Vladimir Putin.
In Kiev responded positively to this assignment – a source in diplomatic circles said that Walker "knows the Ukraine, were brought to the Ukrainian question in the last six years. And he not the last person in the American establishment".
In turn, analyst of the Institute of world politics Nicholas Beleskov said that "the emergence of Volcker as US special representative on settling the conflict between Ukraine and Russia in the Donbas can be part of a larger game."
According to Belenkova, so the White House takes a step to meet US Senator John McCain, "whose man is Kurt Volker".
"Senator McCain is one of the main supporters and players on the issue of codification of the current sanctions against Russia at the level of us legislation. Therefore, the appointment of Volcker is an attempt to buy time and space for American diplomacy," wrote Beleskov on his page in Facebook.
Comments
comments