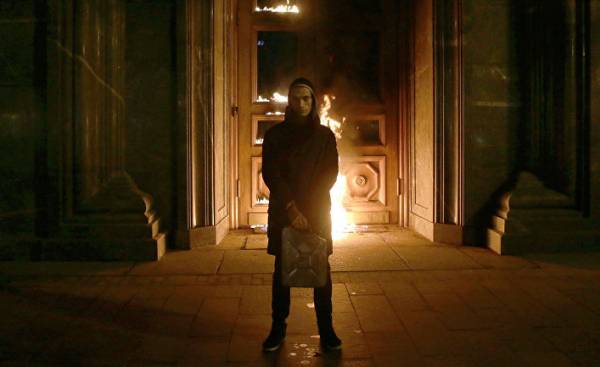 Last summer the Crimean Tatar political activist Ilmi Umerov was treated in one of hospitals of Simferopol in connection with heart disease, when to his chamber burst the FSB and sent him to a psychiatric hospital "for examination".
Umerov, a former Deputy Chairman of the Majlis of the Crimean Tatar people (banned in Russia organization — approx. ed.), openly opposed the annexation of Crimea by Russia. In may 2016, after he said in Tatar language: "We must force Russia to withdraw from Crimea", it was a criminal case on charges of separatism.
In the hospital the doctor told him that it will not be treated, and punished. "You just have to accept that you are wrong, and will cease to bother you — umer quoted the doctor's words in an interview with Euromaidan Press. It's very simple".
Umer refused and he was detained in the mental hospital longer. The conditions of his detention were appalling. According to his lawyers, he was held in a crowded room with severely mentally ill patients, was not given the necessary medication from the heart and diabetes, and often were not fed for long intervals of time.
Three weeks Umerov released, but the criminal case was not closed. Trial in the case began in June.
According to human rights activists, the case Umerov is an example of an alarming trend — the revival of punitive psychiatry in the former Soviet Union. The practice of using psychiatry as a tool of persecution of religious and political dissidents, including many famous writers and artists became infamous in Soviet times. It is assumed that this method was invented who was then Chairman of the KGB Yuri Andropov, who considered psychiatry a tool of the system of political repression: the victim was freed only after the abdication of the "wrong ideas", which the authorities considered dangerous for the Kremlin.
After the collapse of the Soviet Union from punitive psychiatry for some time declined, though President Vladimir Putin in Russia was its revival. A similar trend was observed in several other post-Soviet States.
Over the past five years in countries of the former Soviet Union there were more than 30 cases where activists and journalists were illegally placed in psychiatric institutions, sometimes for a period of 10 years, according to the organization Federation Global Initiative on Psychiatry (FGIP) is responsible for monitoring the observance of human rights in this area. According to experts, the real number of victims could be much higher.
Moreover, use of such methods in relation not only to adults but also to teenagers. In may 2016 16-year-old Gleb. was imprisoned in a psychiatric facility for 15 days after the organization they single picket in the Russian city of Kurgan. He spoke in support of the artist-dissident Pyotr Pavlensky, who last year also spent a month in a psychiatric hospital.
Astafjevs said that during his stay in the hospital five days kept in a special unit for people suffering from particularly serious forms of mental illness, some of whom screamed and punched at night. "Every morning we were given tablets, but I managed to spit out them. I don't know what it was for drugs, but they would turn a man into a vegetable" — he said in an interview EurasiaNet.org.
Interestingly, people often have psychological problems because of the conditions in psychiatric hospitals and forced "treatment" drugs, says the head of the FGIP Robert van Vorenus.
One example is the case of the Chelyabinsk activist Alexei Moroshkina, contained in a psychiatric hospital for 18 months and released only in June of this year. It was reported that he had received high doses of neuroleptics and he developed depression, which he had previously never suffered.
The Moroshkin was arrested in 2015 for the promotion of separatism in social networks, where he talked about the Ural nationalism and criticized the Federal center. The court ruled that it should be placed in a psychiatric institution as representing "a danger to society."
This phrase has a special significance in Russia and other post-Soviet societies, where people with mental illnesses still stigmatized. Today, as in Soviet times, forced imprisonment of activist in psychiatric institution has two objectives: to punish the activist, as well as to undermine his reputation in the eyes of the public, putting him insane.
The use of psychiatry as a punitive tool and is reborn in Central Asia. The most notable example is the case of Jamshid Karimov, an Uzbek independent journalist who criticized the late President of Uzbekistan Islam Karimov, who was his uncle.
In 2006, Jamshid Karimov disappeared, and then it turned out that it was forcibly admitted to the Samarkand. Although initially the court sentenced him to 6 months of "treatment", Karimov was kept in the hospital until the end of 2011. Then left for a short time, and again "closed" for another five years.
Karimov attributed to his release in March of this year the death of his uncle. After the death of Karimov, the new leadership of Uzbekistan, apparently, has a policy of cautious thaw.
"I was so long kept in the hospital because I was a personal enemy, he said in an interview EurasiaNet.org. — I was kept in a dark room with bars on the Windows and were forced to take psychotropic drugs. When he came to the relatives, I always watched the guard".
The doctor allegedly repeatedly called him to abandon the "bad, evil people," said Jamshid Karimov. He believes that he meant Ulugbek Khaydarov, another journalist who was arrested and convicted of treason in 2006.
If governments consider the post-Soviet punitive psychiatry, a means of political "guidance to the right path", this tool will not called very effective. "Treatment" often makes activists and their supporters to fight more fiercely.
"The goal was to show how Russian authorities react to opponents who are not afraid to Express their views. The fact that I was in a mental institution, showed their lack of understanding and blind condemnation of people who are different from other members of society," said a year after the release of glib..
Comments
comments