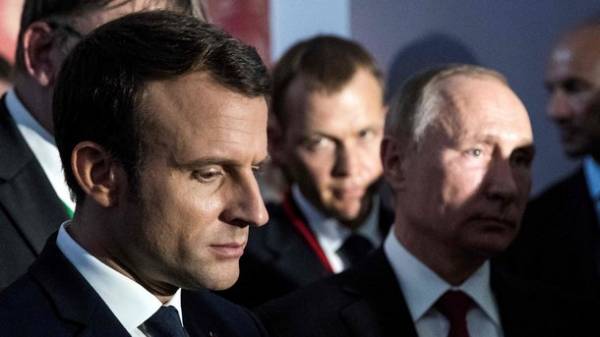 Russian President Vladimir Putin is likely to support the plan of the President of France Emmanuel Makron Donbas, insisting as always on the fact that Russia is not directly involved in the war in the Donbass. This was the "Today" commenting on the possible outcome of the trilateral meeting of the leaders of Germany, France and Russia in the G20 said Professor of political science at Rutgers University in Newark (new Jersey) Alexander Motyl.
"Since the plan of Macron's really about the cessation of hostilities and, therefore, the revival of Minsk, as Putin has the sense to try to establish good relations with the Macron, I expect this plan will be the focus of the trilateral meeting. Putin is likely to support this plan, insisting as always on the fact that Russia is not directly involved in the war in the Donbass, and that the militants should be involved (Kyiv, according to Putin, needs to establish a direct dialogue with the militants – Ed.)", – summed up Alexander Motyl.
Recall, according to Russian presidential aide Yury Ushakov, on 8 July in the framework of G20 summit talks Vladimir Putin, Angela Merkel and Emmanuel Macron on settlement of the situation in Ukraine.
After the first meeting of presidents of Ukraine and France Petro Poroshenko referred to the "formula Rules" in the context of the implementation of the Minsk agreements. "I really like the approach of Mr. President (Emmanuel Macron – Ed.) result oriented, specific, practical and without further ADO. Our arrangements that we put in the paper projects possible solutions to the "Normandy format", perhaps they will be called "formula Rules", but we will be able to show the public a plan for peace and de-occupation of the East of Ukraine", – said Poroshenko.
Earlier on air of TV channel "112 Ukraine", the Deputy Minister on the issues of the temporarily occupied territories Yury Grymchak said that the Plan Makron is the execution plan of the Minsk agreement, when for any failure to satisfy paragraphs will introduce additional sanctions.
Comments
comments