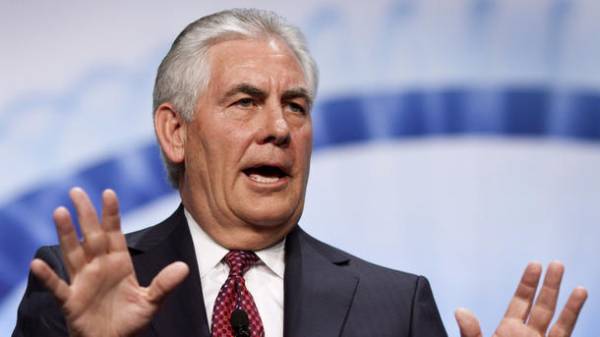 If, during the visit of U.S. Secretary of state Rex Tillerson in Kyiv on July 9 and will be agreed upon some positions, they will require confirmation by the White house. Comments about this "Today" said the Director of the Institute of world policy Alyona Hetmanczuk.
In her words, and was originally scheduled to Tillerson's visit to Kiev took place immediately after the first meeting of the presidents of the United States and Russia at the G20 summit. "It's too early in the practice Tillerson, the American state Department and the Administration in General, there were cases when they tried to inform the Ukrainian side about the progress of certain important negotiations with Russia. For example, before and after Tillerson's visit to Moscow on 11 April at the initiative of the Americans held telephone talks (Poroshenko – Ed.). Americans are positioning visit (Tillerson in Kiev – Ed.) as extremely important. They have been preparing for even when we were preparing the visit Poroshenko in Washington. That is, these two visits were prepared in parallel, date (of visit Tillerson – Ed.) was agreed before the visit Poroshenko," – said the "Today" Alain Getmanchuk.
At the same time, she said in the U.S. there is no common vision and strategy in relation to Ukraine. But, as predicted, Alain Getmanchuk, in the United States will continue the sequence as under Obama: the U.S. will cooperate with Russia where you can, confront where you can confront.
"At least, there are many signals that show that there is this vision. Poet I think that the struggle in America for maintaining the coherence of us policy and inconsistency of the American President will continue. And here Tillerson, if it will have an impact, it is very limited. Today Tillerson rather uncertain position in the US Administration. Known fact – the White house blocked a lot of appointments in the state Department. Of those appointments, which filed Tillerson. Therefore, even if there are some positions agreed to and coordinated in Kiev, it is obvious that they will require some confirmation or perepodchinenie the White house," – said the Director of the Institute of world politics.
We will remind, in Administration of the President of Ukraine confirmed the visit of U.S. Secretary of state Rex Tillerson in Ukraine on 9 July and his meeting with Petro Poroshenko.
Comments
comments