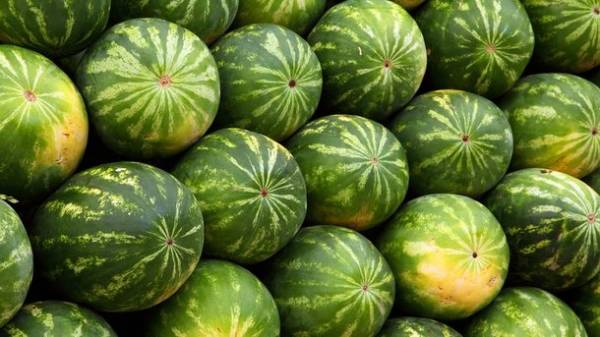 Over the past weekend on the watermelons market in Ukraine held another collapse of prices. As of 3 July 2017, farms of the Kherson region offered watermelon for 2.5 – 3 UAH/kg (0,08 – 0,1 Euro/kg) is almost 1.5 times less than three days, writes "info-SHUVAR".
In wholesale markets the price of watermelon is also over the past few days has fallen by almost a third. Thus, the largest in the Western region of the wholesale market "SHUVAR" in Lviv, the watermelon is offered at a 5.5 – 6 UAH / kg (0,18 – 0,2 Euro/kg), the market is "Unexpected" in the Kherson region, the wholesalers and the producers ask for the products are not more expensive than 4 – 5 UAH / kg (0,13 – 0,17 Euro/kg).
In General, the wholesale markets of watermelon serves 25 – 30% cheaper than a year ago, but even at a relatively low price, the demand remains fairly low.
"Sell early watermelon is always difficult: the Ukrainians believe that early production of "overfed chemistry", therefore dangerous to health. Most often it is not – professional producers too value their reputation, so a fairly responsible attitude to the issue of quality and safety of their products. Some farms can now even export early watermelon" – says the expert of the fruit and vegetable market in Eastern Europe Tatiana Getman.
Shipment of Ukrainian watermelons for export this year has already begun, the first batch a few days ago was exported to Moldova. After a few days, exporters plan to start exporting to Poland and the Baltics, but you need to get the prices dropped even further.
"While our watermelon too expensive for the Polish market, even at the minimum purchase price is 3 UAH/kg (0.1 Euro/kg), its cost on the market in Warsaw will be not less than 9 – UAH 10/kg (0,3 – 0,34 € /kg). For comparison, the manufacturers of Morocco and Greece now on the market "Bronisze" in Warsaw offer watermelon on 0,31 – 0,32 Euro/kg ", – says head, export APIU "SHUVAR" Roman MAZURAK.
As reported, Ukraine annually tries to start the export watermelons early. Last season in July exports have been sold about 5 thousand tons of watermelons and the largest volume of 8.2 thousand tons were exported in August. During last season the total exports amounted to more than 21 thousand tons, of which almost 70% were sold on the EU market.
Comments
comments