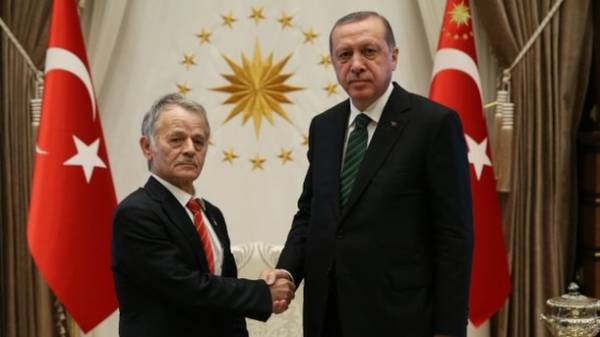 MP and the leader of Crimean Tatars Mustafa Jemilev met in Turkey with President Recep Tayyip Erdogan and discussed with him the issues of the occupied Crimea, the press service of the Majlis.
So, during the meeting with Erdogan Cemil told about the persecution of Crimean Tatars and other citizens in the Crimea who disagree with the Russian occupation. The MP pointed to the urgency of releasing all political prisoners of the Kremlin and the abolition of the ban on entry to the Crimea of representatives of the Majlis.
In turn, the Turkish President assured the unquestioning support of the Crimean people. He also supports the inviolability of the territorial integrity of Ukraine within its internationally recognized borders.
Erdogan stressed that Turkey take measures on the prevention a visit to the Crimean port of Turkish courts.
Cemil thanked the Turkish President for the support and noted the importance for the Crimean Tatars clear position of the Turkish state regarding the non-recognition of illegal annexation of Crimea and the unacceptability of attempts of the Russian Federation for its legitimization.
Earlier, the Minister of defence of Turkey Fikir Isik said that his country will continue to support Ukraine. According to him, it would not have developed the relations between Turkey and Russia, Ankara will still condemn the annexation of Crimea and assures in support for Ukraine's territorial integrity.
Comments
comments