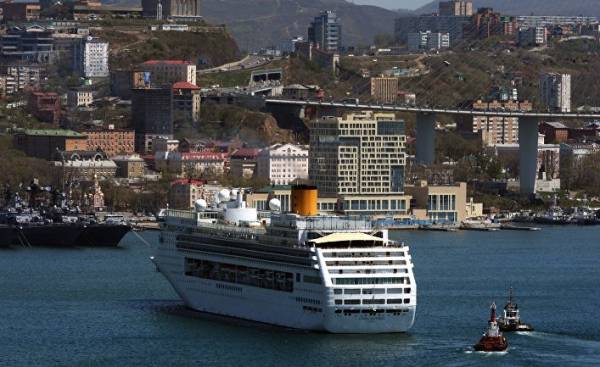 Artem, Russia. — On the East coast of Russia, where widespread corruption and bureaucratic negligence restrain the dynamic of economic development, although thanks to such development, the rest of Asia is becoming richer, in the middle of a dark forest is a brilliant Palace. This casino, which became an unexpected attempt by the authorities to obtain access to a wealth of neighboring China, Japan and South Korea.
Today, when few of the Chinese and other investors willing to bet on Russia, this forest Palace, just six and a half thousand kilometers from Moscow, attracts wealthy Asians who not only don't mind risk, but also happy to go for it. These people are ready to bet on gaming tables for baccarat and the roulette wheel in the recently opened far Eastern casino, which has become Russia's answer to Las Vegas.
Tigre de Cristal — the only casino in "integrated entertainment zone" the Far East. Authorities in neighboring Vladivostok hope that all will be built there eight places for gambling and this will be Russia's largest gaming complex. Its construction is mainly financed by a Hong Kong company, Summit Ascent and Chinese firms that invest in complex, the largest share. In this regard, it should be said that President Vladimir Putin is trying to turn the far East into the sample "Russian pivot to the East".
Since then, Nikita Khrushchev made a stop in the Russian far East after a trip to California in 1959 and declared that Vladivostok became the "second San Francisco", the huge advantages of this city, such as beautiful nature, the location in Asia and educated population, constantly generate wildest dreams. Then comes a bitter disappointment.
Under Putin, Moscow has invested in the region billions of dollars, paying for the construction of huge bridges, a new University campus and other construction projects as directed by the state. But says associate Professor of international relations, far Eastern Federal University Artyom Lukin, "Russia has realized that free Chinese money."
But Chinese gamblers go there, at least due to the fact that in China they are banned, if you don't count located on the southern coast near Hong Kong Macau. And yet, because the forest complex to the North-East of Vladivostok, this is the only casino for a hundred million Chinese living in the neighboring Russian provinces.
If Ungua (Li Yunhui) — 45-year-old businessman and a fan of gambling from the Chinese city of Mudanjiang, located in 250 km from Vladivostok. He says that in Russian casinos there are no such facilities and services, as in the famous gambling centres like Macau, but notes: "At least it's close. And the air is clean".
According to him, he is frequently in Vladivostok from the beginning of 1990-ies, and does not understand why Russia lags far behind China in economic terms. "It is similar to a developing country. China was so a few decades ago," says Lee. He was trying to create in Vladivostok a small company, but are desperate because of all this red tape. "What China can do for the day, here take weeks," complains a businessman.
The gaming center itself was an example of how slowly it works down here. State leaders put forward the idea of creating such centers almost 10 years ago. They enlisted the support of a local businessman with ties Oleg Drozdov, who promised to build a hotel and casino complex, which now holds Tigre de Cristal. But after the resignation of disgraced Governor of Primorye Sergey Darkin Drozdov in 2013 arrested, accused of corruption.
A Hong Kong company Summit Ascent, which owns 60% of the casino, inherited from Drozdov concrete case, and invested together with other investors, $ 200 million, has completed the construction, and at the end of 2015 opened gambling complex. This company, which received last year a modest profit, plans to invest 500 million dollars in the construction of a second luxury hotel, Golf club, additional facilities for games and other facilities in the entertainment area.
The construction of four casinos, which are other companies that are significantly behind schedule. In a forest area full of empty plots, with very few signs of construction. A Russian court recently annulled the project of construction of the casino, developed by a Russian developer, because he had delayed starting work.
Director of Summit Ascent for corporate Finance and strategy from Hong Kong Eric Landheer (Eric Landheer) said that his company has "first-mover advantage and monopoly", but doesn't want to remain alone in the forest, because the players prefer more lively places for gambling.
The gaming business in Russia a long and complicated history, as the attitude forms the Orthodox Church, which is against the casino, calling them diabolical undertaking, as well as works by Fyodor Dostoevsky, who was a gamer and told me about the temptations and dangers of this addiction in his novel "the gambler".
Speaking for traditional Christian values Putin in 2009 banned casino slot machines, complaining that too many Russians because of gambling lose the last penny and their pensions.
But when money loses the Chinese and other foreigners, in this case, apparently, there is no problem. Of this money, receive salaries about one thousand Russians operating in Tigre de Cristal, and in dire need of finances the budget of Primorsky Krai with the capital in Vladivostok. This city is mired in corruption and cannot attract foreign investment, with the exception of public funds for infrastructure projects. In Soviet times it was closed for foreigners city, and now there are regular flights to Harbin, Beijing and other Chinese cities. You can also travel by road or rail and by sea.
To rip off foreigners and a limited number of Russians, Moscow gave permission for the creation of four special gambling zones. Located in the westernmost Kaliningrad region, where traveling of the gamblers from Poland. Two are located in the resort city of Sochi and in the Altai region in Siberia.
The Russians, too, can play Tigre de Cristal on presentation of a passport and registration. It's not really like Russian priests and those who see in the casino is a weak substitute for a sound economic development.
"All who have read Dostoyevsky, I know about the problems which come with gambling, — complains a veteran journalist from Vladivostok Andrey kalachinskiy. — The spread of prostitution also creates jobs, but what?"
Another problem is the transport infrastructure. The area of the casino with the Vladivostok airport connect new highway, but on a finite interval it turns into a dirt road. The winding road to the 55 kilometres of the centre of Vladivostok is so clogged that Putin's representative in the far East Yury Trutnev has proposed to open a ferry to shorten the trip to a casino.
The authorities are also not in a hurry to enter the promised visa-free regime for visitors from China and some other countries. Despite these delays, the Chinese can be quite easy to get a visa if you sign up for the outing. Last year, the number who visited in Vladivostok and Primorsky Krai of visitors from China grew more than two times, amounting to about 300 thousand people.
Member of the opposition of the Vladivostok city Duma Yury Kuchin said that local officials usually hinder, not help foreign investors, working slowly and reluctantly, if you do not see the financial benefits for themselves. Being a sharp critic of the authorities, Kuching, however, supports the project of the construction of casinos on the foreign money, seeing it as a source of job creation and a good way of dealing with illegal gambling dens in the region, which, according to him, often under the protection of corrupt officials.
Meet today at the gaming project "Corporation of development of Primorsky Krai" refused to answer the question about what is being done to combat illegal gambling, and how a casino fits into the overall development strategy of the region.
In Vladivostok a lot of projects which failed, including two five-star Hyatt hotel, which was supposed to open five years ago, but still under construction. But casino Tigre de Cristal, the construction of which was delayed for a number of reasons, including because of the arrest of a local business partner, today, not only opened up and running, but profitable.
The Chairman of the Board Summit Ascent and a son of gambling tycoon from Macau, Stanley Ho (Stanley Ho) Lawrence Ho (Lawrence Ho) in the report for investors admitted that this year was "not without problems". However, he noted: "overall I am optimistic about the potential of our investment in this pearl of the Russian Far East."
The more profit a casino bring major Chinese players whom entice the operators of gambling tourism, finding clients, providing them with loans, organizing trips and managing gambling halls for the most important guests. For such services, the casino operators pay a fraction of what it will benefit their clients. According to Landheer, this share more of those 40-50% that these agents get to Macau.
However, the operator of the gambling tourism from northeast China Tommy Li (Tommy Li) complains that in Vladivostok, much less lures, and charms, than in Macau, and in the winter it's too cold. The only thing that attracts Chinese players, he says, is the proximity of the casino to China.
He complains that in the gambling zone are not enough prostitutes, unlike Macau, where there are many more, and where they are cheaper. According to Landheer, his company does not supply prostitutes and wants any illegal activity was stopped.
However, he notes that Vladivostok is very much "other service providers", ready to meet all the needs and whims of the players.
Comments
comments