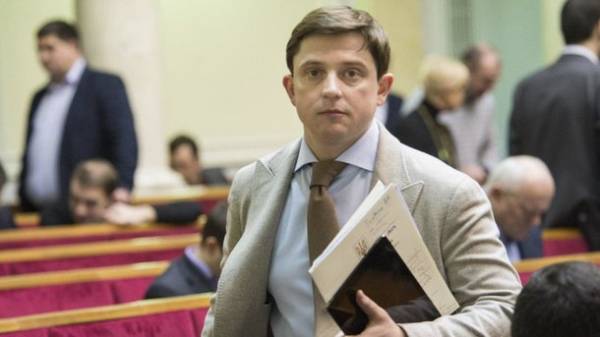 Abandoning parliamentary immunity, Oles Dovgy has set an example for other parliamentarians who advocate for the abolition of this institution. This was stated by the political scientist, Director of the Institute of global strategies Vadim Karasev.
According to him, today the subject of parliamentary immunity popular among politicians, many of whom were not ready to abandon it.
"Now after a series of submissions from Lutsenko about removal of inviolability from deputies spoke with President Poroshenko. A lot of talk on this subject sounds, including among parliamentarians. Only they are all more about how to preserve the privilege. Some MPs say that this is contrary to world practice, others that the issue is not the time. Although in their election programs, they are all as one, promised to give up this "atavism". Promised and long. In the statement he proves he is a consistent politician who has a responsible approach to their statements. Today Dovgy has shown, what should the responsible politician: he appealed to colleagues to remove this obstacle to justice, which today, unfortunately, still leaves much to be desired", – said Vadim Karasev.
The analyst said that such a move characterizes Oles Dovgy as "Mature and consistent policy".
"I think the appeal of the long to the regulatory Committee to support the lifting of his immunity – the timely and tactically astute political move and evidence of a good team of advisors. It also shows that he is Mature and consistent policies. Not many Ukrainian MPs are ready to voluntarily give up immunity, especially when it is involved in the investigation of the Prosecutor's office. The truth is, for the lion's share of politicians 'integrity had been the main motif of the campaign to the Verkhovna Rada", – said Vadim Karasev.
We will remind, people's Deputy Oles Dovgy has asked the maintenance Committee to remove his parliamentary immunity so he could defend himself in court and had the opportunity to "once and for all put an end to these speculations in court".
"Give me a chance to get to the point where we do not accept likes from Facebook where not accepted as evidence of Internet articles, and where populism is not a causal link for the criminal case," said Oles Dovgy.
As reported, the Procedural Committee on rules and organization of work of the Verkhovna Rada at its meeting on Tuesday, 4th July 2017, did not support the proposal of the Prosecutor General on removal of inviolability from the people's Deputy Oles Dovgy. According to members of the Committee, the submission of the Prosecutor General Yury Lutsenko contains significant shortcomings to justify the facts of the Long abuse of power while serving as Secretary of the Kyiv city Council. The solution is the removal of inviolability from the people's Deputy Oles Dovgy is going to take the Verkhovna Rada.
Comments
comments