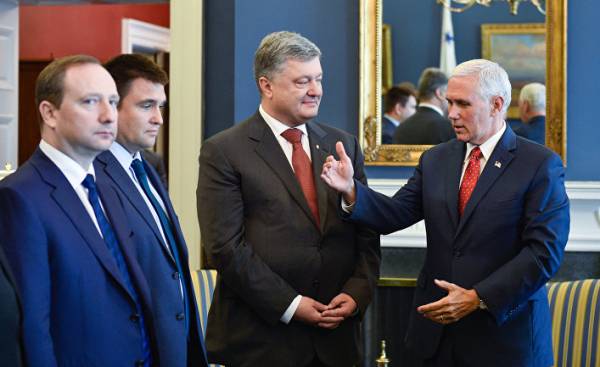 Visit of the President of trump to Poland next week will give it an exceptional opportunity to establish American leadership and greatness. While in Warsaw, trump could confirm US interest in European security, and for that it needs to supply to Ukraine weapons, which it urgently needed to protect against ongoing Russian aggression.
Russia daily, increasingly violate signed in 2015 Minsk agreement. Moscow has concentrated on the Ukrainian border four armies, reinforced the black sea fleet, created a powerful means of preventing access/blocking zone in the Black sea area, altered for military purposes, there are Ukrainian energy facilities and prepare a back-office infrastructure to conduct large-scale war against Ukraine, including for landings in the South. It is building nuclear bunkers in Feodosiya and Sevastopol. The Russian military clearly considers possible large-scale and protracted war using conventional means and with nuclear threats.
Vladimir Putin believes that he is already at war with the West, let the shots from the two sides have not yet heard. How else can you explain the repeated flights of his aircraft over the territory of Europe, in close and dangerous proximity Russian planes and ships from air and naval forces of the USA and NATO, subversive actions on the elections in France, Germany and the Netherlands, large-scale information war across Europe, as well as the ongoing hacking attacks on the political system of the United States?
Although Putin regularly praises trump, his actions indicate that he is contempt for the American President — and to the resolve of the United States.
The strategic missteps of the Obama administration has exacerbated Russian problem. To visit trump, many will carefully look for any signs of its willingness to protect American and European security. If to transfer weapons to Ukraine, with whom she will be able to resist Russian threats (this radar serifs artillery, armored vehicles, anti-tank weapons, secure communications equipment, reconnaissance drones, antilanding tools, such as the shallow mines, learning tools and exploration), it will help to deter Russian aggression and to strengthen American leadership in NATO.
The supply of arms to Ukraine will strengthen the credibility of American politics in the center of which since Harry Truman has always stood in support of the peoples against aggression. It will strengthen American leadership and resolve. Moreover, it will signal to the world, and will, during the Reagan years, the real basis for future dialogue with Russia, deprived of the means of aggression. Public demonstration of assistance to Ukraine will also weaken the tension inside the country. Persistent criticism of trump will be forced to admit that he is opposed to Russia and defends American interests.
But the supply of weapons to Ukraine and strengthen NATO is not the end. Congress should expand and extend sanctions against Russia, but also to adopt a law on countering the information war. Probably the most effective way to increase the cost to Russia is to increase American energy exports to Europe.
Putin won't like it. His constant goal is to wreak havoc in the West and to weaken the influence of NATO on Russian borders. Paradoxically, it forces trump to play a more prominent role in Eastern Europe than he wants the American President. If Putin starts complaining about such actions, trump will need to submit a simple and powerful message: you yourself are to blame.
While in Warsaw, trump will get a rare opportunity to do the right thing and to demonstrate America's greatness in action. For the sake of our and European of freedom he should go for it.
Stephen Blank is a senior fellow at the American foreign policy Council (American Foreign Policy Council).
Comments
comments