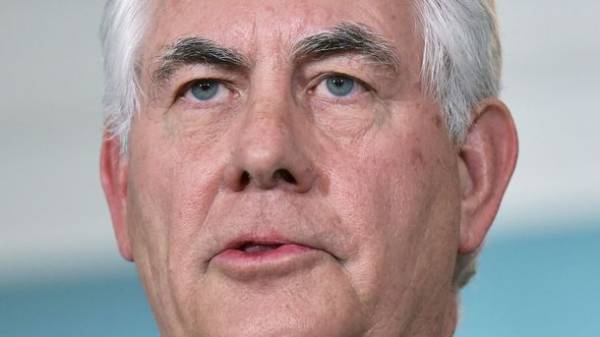 U.S. Secretary of state Rex Tillerson, during a telephone conversation with President of Ukraine Petro Poroshenko assured that the United States supports the territorial integrity of Ukraine and did not lift sanctions against Russia until the complete fulfillment of the Minsk agreements, as well as returning control of Ukraine's Crimea.
This is stated in the message of the US state Department, TV channel "112 Ukraine".
Tillerson discussed with the Ukrainian President's recent visit to Moscow, during which he discussed with Russian leaders, the US desire to improve relations with Russia. However, Russia's actions in Eastern Ukraine serve as a barrier for this, the report said the state Department.
The Secretary of state stressed the importance of further progress in the implementation by Ukraine of the reforms and in the fight against corruption.
Also, it is reported that Tillerson accepted the condolences that Petro Poroshenko has expressed in connection with the death of an employee of the OSCE.
We will remind as reported the press service of the President of Ukraine, during a telephone conversation with Rex Tillerson, President Petro Poroshenko expressed condolences to the American representative of the Special OSCE monitoring mission, who died today of undermining patrol in the occupied territories and condemned all forms of constant interference by militants in the work of the OSCE SMM.
Also, Poroshenko suggested to strengthen the consideration of placement in the Donbass international peacekeeping force under UN auspices.
Comments
comments