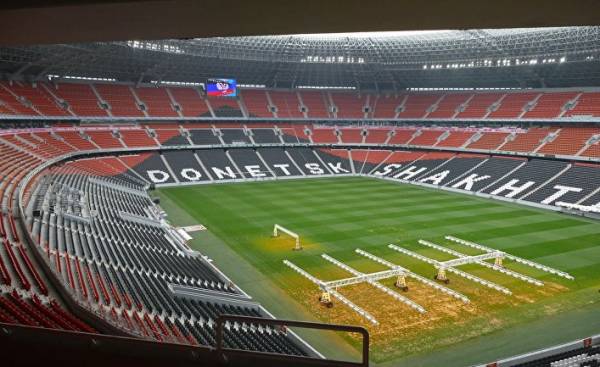 The Donbass arena is an ultra — modern building with luxury box, which several years ago left star of world football. Today she is in possession of Pro-Russian militias in the East of Ukraine and decline.
While discusses the matches of the confederations Cup, taking place in neighbouring Russia, the stadium that hosted the semi-finals of Euro 2012, now abandoned after the capture of armed militias fighting against the Ukrainian army.
"It is unfortunate that we now can't go to the stadium," says local fan Yury Zhavoronkov, sitting in the almost empty sports bar near the arena.
"It was the Mecca of our football, the place where we all met," — says Yuri.
When the stadium opened in 2009, in Donetsk, the unofficial capital of the coal region, it was different.
A native of Donetsk, the richest Ukrainian oligarch Rinat Akhmetov has spent 350 million euros on the construction of the stadium for local club Shakhtar Donetsk, whose President he is.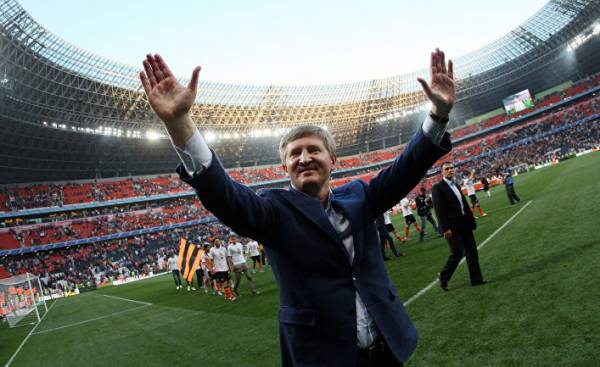 © AFP 2016, Alexander KhudoteplyПрезидент football club Shakhtar Donetsk, Rinat Akhmetov
He hired the architects who worked on construction projects "Allianz Arena" in Germany and the giant stadium in Beijing built for the 2008 Olympics and nicknamed the crow's nest. Even Akhmetov invited the pop diva Beyonce to sing at the opening ceremony of the stadium.
In June 2012, the Donbass arena played host to such stars as Cristiano Ronaldo (Cristiano Ronaldo), Andres Iniesta (Andres Iniesta), Xavi (Xavi Hernandez), and witnessed the victory of Spain over Portugal.
War
But two years later, after the dismissal of Pro-Russian President Yanukovych and the annexation of Crimea by Russia, Donetsk and Eastern Ukraine has plunged into armed conflict between Kiev and Pro-Russian rebels who killed more than 10 thousand people.
Donetsk has been at the very epicenter of the fighting, and the stadium was immediately captured.
In may 2014 the club cancelled all matches at the "Donbass Arena" and left Donetsk after the call to international organizations to stop playing in the combat zone.
After the departure of players Rinat Akhmetov, who tried to keep control of the stadium, organized at the point of distribution of humanitarian aid for residents of the city.
But in March, the militia finally conquered the stadium and other real estate belonging to oligarch, accusing him of conducting a double game with Kiev.
After the capture of "Donbass Arena" Rinat Akhmetov has suspended financing of the stadium and reduced the large number of staff.
The lawn is partially yellow, the lighting does not work, a gift shop empty, and the stadium itself has now become just another testimony to the devastation that resulted from the Ukrainian conflict.
Although the militia and recently stated its intention to rebuild the stadium, they did not specify who will Finance the work, and did not name the exact date of its re-opening.
Comments
comments