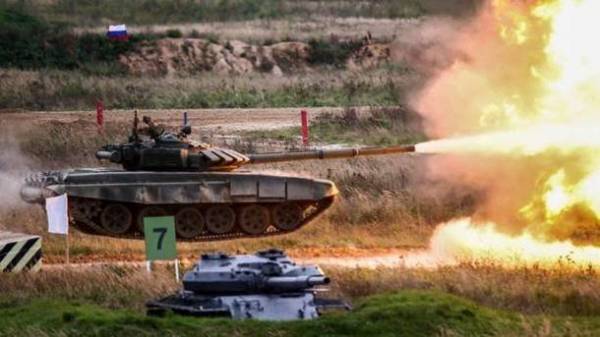 The Russian army has increased significantly and continues to create a new army, so a full-scale invasion is not excluded. This was told on air of TV channel "112 Ukraine", the former Minister of defense Oleksandr Kuzmuk, the "GORDON".
According to him, Russia is seriously prepared local militias in the Donbass, and some of them received military training in Russia and have returned to officers. In addition to this, the General said, now the militants are commanded by Russian officers.
"Sergeants, soldiers are trained in training centers of the Russian Federation. Plus those which are told you, – who formerly served. That is to underestimate and say that they are unorganized and impossible. Over the years they are from space, air and ground to atoms studied our entire defense. You see all attacks – effective. They shoot in depth, but we are only dealing with the front edge," – said Kuzmuk.
On the question of whether a full-scale invasion of Russia to Ukraine, he replied: "I do not exclude it".
Also, the General said that now the Russian army is serious enhanced (58% of all forces) with the latest weapons, mostly air force and Navy – the main striking power of the Russian Federation.
"There will be war against us or not? Are they?.. You know, it was still recreated and formed in the suburbs of the 1st Panzer army. In addition, deployed 20 army in Voronezh, recreated the 8th guards army in the southern district. Established in reserve the 49th army," – said Kuzmuk.
He stressed that the whole territory of Ukraine is exposed to fire missiles at Russia.
"But I just say that to beat us, and win – ever. With this in mind, they can say goodbye. War is always a loss. Our boundaries on the ground based on different depths prepared 500 aircraft. The only option that can be used by the Russian Federation with the full invasion of (but can you imagine what it will be an international outcry?!) is aircraft and missile troops. By the way, the whole territory of Ukraine sweep means of the armed forces of the Russian Federation, without violating the borders. All, can you imagine?! But imagine, again, what the response will be in the world? Europe generally howl", the General added.
Earlier people's Deputy, the coordinator of group "Information resistance" Dmitry Tymchuk told that today the Ukrainian Armed forces are superior fighters, who do not have enough forces to carry out a major offensive in the Donbas.
In turn, military expert Alexey arestovich suggested a scenario of operations for the liberation of Donbass.
Comments
comments