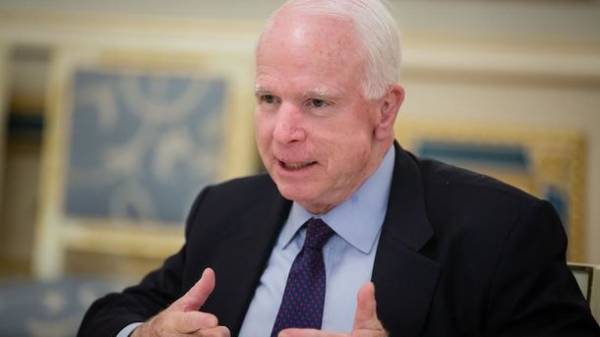 During a meeting of the armed services Committee, Senator John McCain staged a "showdown" with the candidate in the deputies of the Minister of defense Patrick Changana because of the issue of providing lethal weapons to Ukraine, reports "GORDON," citing The Hill.
It is reported that the Senator was disappointed with the response of Shanahan on the issue of providing lethal weapons to Ukraine to counter Russia.
As he said himself a candidate for the office in the Pentagon, he will consider the matter only after the inauguration, so as of now do not have access to classified information.
"A bad beginning. It doesn't start. Don't do that again, Mr. Shanahan because I could not bear your name to the vote in this Committee. You said that you have to consider this issue. This is an unsatisfactory answer. Mr. Shanahan, you may would like to reduce or amend your statement? What worries me is that after all these years you said you have yet to consider this issue. Or do you not know about this issue? Or do you not know about the actions of the Senate Committee on the armed forces? Or do you not know about the thousands of people killed by Vladimir Putin? Or you missed it all, from carrying out their duties in one of the major defense corporations of this country?" – said McCain.
Later Shanahan has confirmed that he supports providing lethal arms to Ukraine, but that McCain said "glad to hear it," and advised Shanahan is no doubt on this subject in the future.
As said Pentagon spokesman Jeff Davis, the U.S. does not exclude that in the future will provide lethal defensive weapons to Ukraine. In the Ministry of defence of the USA has said that plans to provide lethal weapons are evaluated in each case.
Comments
comments