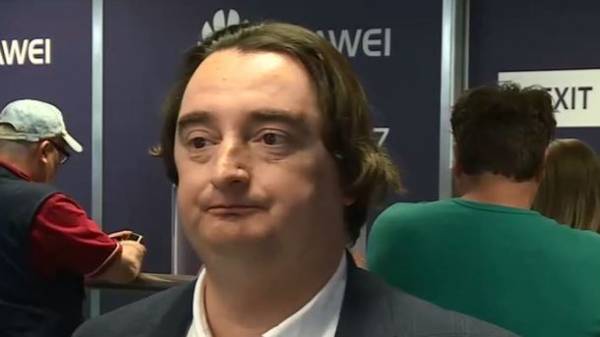 Detained Thursday night for soliciting the chief editor of the Internet publication "Country.sa" said that his detention is connected with the people's Deputy of Ukraine from Radical party Dmitry Linko.
According to a post on the website "Country.sa", during a search at Guzhva seized a mobile phone, in connection with which he commented on the situation by, arrived on the scene, Helen Lucas.
"Hello! Igor Guzhva Phone I have selected. So I write here. In short the thing is. About a month ago I went on a people from the people's Deputy from the Radical party Linko and offered $ 20,000 for the removal of the text about the conflict of people, molting and Kiva. (Ilya Kiva – adviser to the Minister of internal Affairs of Ukraine Arsen Avakov – ed..) was Suggested strongly, but I refused. Since contacts about Linko was not. Today around 9pm to my office broke people. It was presented by the police. Force selected the phone. My requirements not to conduct investigative actions prior to joining the advocates did not respond. What they found during a search, where it came from, they found me hard to say. I was not able to follow their actions. The conclusion may be one – the authorities have had enough of our "Country" and they decided to go on lawlessness. To close our publication and to fabricate a criminal case against me with the intent of throwing you in jail. But nothing. We still povoyuem. Igor Guzhva," reads the message on the Lucas Facebook page.
As reported, on Thursday evening in Kiev was detained the chief editor of the Internet publication "Country.sa" Igor Guzhva, said the Prosecutor General of Ukraine Yuriy Lutsenko.
"According to the materials of the SFS and the Prosecutor's office of Kyiv detained Guzhva, who demanded and received $10 thousand for the deployment of compromising materials on the current policy," wrote Lutsenko in his Facebook page.
The attorney General, at the disposal of investigators have video and photo evidence of the offense.
Earlier, Guzhva said that the office of the Internet publication "Country.sa" is searched.
"At us in edition a search under a fabricated case," he wrote on his Facebook page.
According to the Deputy chief editor of "the Country.sa" Svetlana Kryukova, the search was carried out in the order of 15-20 employees of the security Service of Ukraine, she later clarified that the search conducted by the officers of the investigation Department of the National police.
"The building of the business center closed at the entrance. Within three editorial staff, and the rabbit, including the chief editor Igor Guzhva", – she wrote on his page in Facebook.
Comments
comments