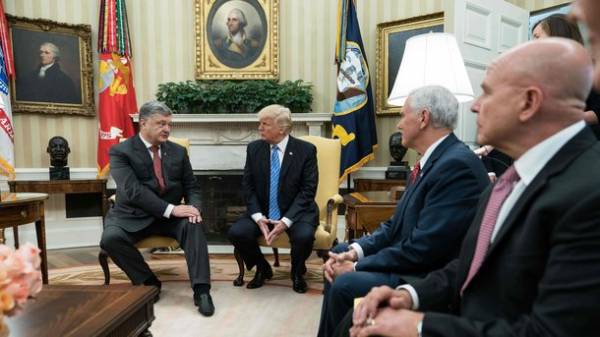 To date, there is no need of US participation in the negotiations on the Donbass with Russia. This was at the briefing at the White house after meeting with U.S. President Donald trump said the President of Ukraine Petro Poroshenko.
"I don't see any need. USA is our partner. We are very interested in bringing America to the active process. United States – the guarantor countries under the Budapest Memorandum, and today's meeting reaffirms the importance of Ukraine for Washington and a strong commitment to the support of our state. The peace plan I proposed three years ago, is the basis…Plan of de-occupation? We are currently developing a bill (for the reintegration of Donbass. – Ed.). I'd like to stress that we have a public debate, should address most points of view, and today, of course, they will be presented to our foreign partners," – said the President.
Also, according to him, the meeting with the US President Donald trump, Ukraine received the US commitment to the continuation of the sanctions policy.
"I think it's obvious. We have today the United States is taking additional sanctions almost every day. And I see the US position as a solid and reliable strategic partner of Ukraine", – concluded the President of Ukraine.
As reported today, the US imposed new sanctions against Russia, the list includes chef Putin.
Comments
comments