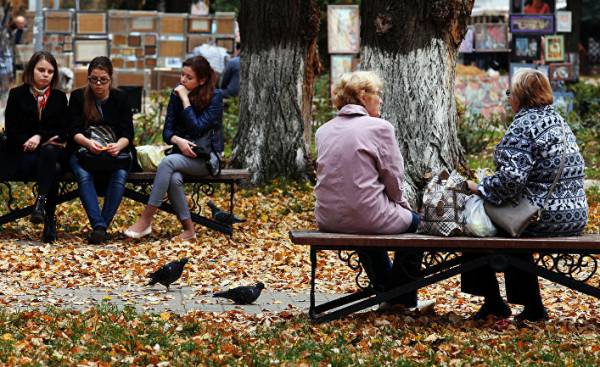 A sure sign that spring has come in my Moscow area, is when the elderly residents of the home, "grandparents", as they are called here, get on the benches at the entrances.
Every time you go out of the door, they notice: gone. Every time comes back, they see that returned.
Foreign journalists in Russia get used to the fact that they are followed by the security service, the FSB. In my house there is a private security service. So effective that I'm afraid to do something stupid in their presence.
About a month ago a big black car parked right in the aisle and blocked the road for us residents. When it sits there for a day, I decided to write the word "HAM" (good Russian word that can mean all the nuances between the villain, a boor and a jerk) ink on a sheet of A4 paper and stick it on the windshield.
But the action did not take place, as old men and women sat on the bench from morning till night. They surely would be interested in my actions, for sure, many even would to cheer me up. But it could happen that some of them would have been a grandmother or grandfather bugger.
Get-together on the bench very sociable. When I walk by, we always say Hello and they politely admire my scooter.
But the biggest excitement they cause people passing by with dogs. "Honey, they say a dog — My sweet, my darling!"
Russian language provides a variety of applications as a two-legged and four-legged. Elderly aunts sometimes call me "daughter". If I were a man, they would say "son." Russian, referring to elderly aunts or uncles on the street, you can call them "grandma" or "grandpa."
Swedish sounds very intimate. In Russian it is not a sign of familiarity. The distance between official and intimate is very small, and can very quickly move on to discussing some existential issues with a man you barely know, and this does not mean that you will become close friends. It's like a glimpse of the inner life of man, his experiences — and then you again takes a whirlwind of a million city.
In my area there is an Armenian seamstress Cyran. She patches up the damaged clothes so well that she becomes as good as new, and our family — among her most loyal customers. Siran loves children and every time I come with my daughter, she blossoms.
"Do you have children?", — I asked once.
This, of course, the question that should never ask — but not in Russia. Here you can ask people in which God they believe in, what their salary is, whether they have children or a spouse.
"Unfortunately, no. My husband and I tried for years to have children. But I can't," said Cyran.
"It is sad to hear."
"It is sad. But we pray to God and hope that he will hear our prayer."
We smile at each other.
And that's all.
My relationship with my neighbor can hardly be called friends. Nevertheless, something we know about each other. Because we have a common vestibule.
She is not a friendly person. In the first two years of my life in the house she did not greet, but only sour and looked at me. I saw her so often, she took care of her sick mother and rarely went out. Her adult son several times to death scared me when banging on the door of the mother, all covered with blood. Once he is drunk asleep, we are in the vestibule and snored so that it could be heard in my apartment.
I don't even know the name of my neighbor, but knew that her son is an alcoholic and a sick mother.
Once I first saw her sitting on a bench near the entrance. It was spring, the sun was shining. I smiled at her.
"You sit outside! As well."
"Now I can do it. Mom died".
"It is sad".
"It's hard. By the way, my name is Tamara. It is time for us, perhaps, already and to meet you."
Comments
comments