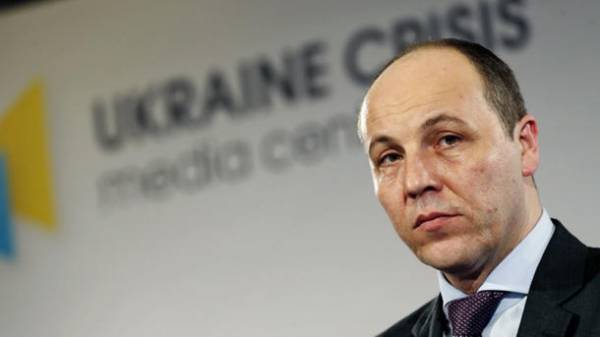 During a visit to Washington, led by speaker of the Verkhovna Rada Andriy Parubiy, the Ukrainian delegation raised the issue of providing lethal weapons. This is opening the Conciliatory Council in Parliament, said the Chairman of the Parliament Andrei Parubiy.
"I want to inform you that from 12 to 17 June, I and a number of people's deputies stayed with working visit to the United States. During this trip, I raised the issues that were identified BP, in particular on granting Ukraine lethal weapons, the signing of bilateral agreements bezopasnosti – treatment that we voted in the walls of the Verkhovna Rada on granting Ukraine the status of the main ally of the US. And the key event was the signing of a Memorandum of cooperation between the Ukrainian Parliament and the U.S. Congress, speaker of the house of representatives Paul Ryan. Convinced that the signing of this Memorandum brings a new phase of our inter-parliamentary relations. It is very important that the text in question, and this is probably the first time in official documents, Ukraine – an Outpost of Western civilization in opposition to Russian aggression. The wording of the Memorandum, which was signed," – said the speaker of the Parliament.
In addition, according to Andriy Parubiy, the Ukrainian delegation was in the Senate during the adoption of the law on the strengthening of sanctions against Russia, and this decision had two important values. "The first thing all the sanctions that were imposed against Russia by the decree of the President (USA – Ed.) now transferred to the status of the law. That is, their undoing is possible only legislative way through the Congress of both chambers of Parliament. And the second important point – the sanctions expanded, including in the banking and energy sector of Russia. And allocated $ 250 million to counter Russian propaganda in Central Europe," concluded Parubiy.
We will remind, last week the Senate almost by an absolute majority voted for a bill that significantly expands sanctions against Russia. In particular, the document introduces restrictions against the energy and banking sectors, and prohibits the US President Donald Trump without the consent of Congress to lift sanctions against the Kremlin. However, the bill still must be approved by the House of representatives and then signed by the President. According to Western media, the White house is already preparing amendments that would significantly weaken the sanctions against Russia, but will also leave the President the right to cancel and to ease sanctions against Russia.
Comments
comments