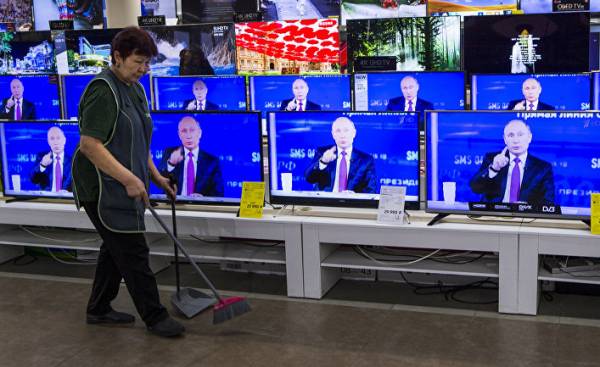 Russian state television showed the extraordinary courage, when President Vladimir Putin on Thursday held its annual marathon, "a Straight line" when he four hours to answer different questions of Russians.
And it's not the nearly 80 questions selected from allegedly more than two million former and almost as light and devoid of criticism of the President, as usual. The thing is that sometimes on TV was a pretty hard-hitting comments and questions sent via SMS.
"Do the three presidential terms enough?" — was one of the questions which meant long Putin's monopoly of power.
"When You send in the resignation of Medvedev?" — interested in another Russian future Russian Prime Minister Dmitry Medvedev.
"Rogozin employed his son, he may think will help?" — this question was the Vice-Premier Dmitry Rogozin.
"All Russia believes that You long enough to sit on the throne", was the fourth comment.
None of these questions were not posed to Putin directly, and so they all remained unanswered, but it is almost unheard of, that so much overt criticism of the President and the government was given in a broadcast from state-controlled TV channels. And at the end of the program the President was asked a single critical question: "do You really think that people believe this dummy questions?"
"Is this a fake question?" — Putin replied with a question, and this is almost all over.
Good king
During this year's show was set to an unusually high number of specific issues relating to the plight in different places in Russia, ranging from uninhabitable dwellings, streets with asphalt, dug up wells, to the lack of medicines and pitiful wages. This should not be interpreted as that the Kremlin, and, therefore, the state television drew attention to the nation's growing discontent amid economic crisis a few years, and that to hide the presence of all these problems is impossible.
However, Putin was able to act as a "good king" who opposed the "bad nobility" cares only about the interests of the people. And that solves all problems as soon as he is given the opportunity.
Putin, for example, expressed their surprise at the fact that Alena, a young teacher from the Irkutsk region in the East of Russia, receives a monthly salary of only 16 thousand rubles, and promised to deal with this issue.
To visit Anastasia
One family, whose house in Stavropol in southern Russia, was destroyed in the floods, and which has not received any compensation, it was promised that the local Governor will call her "today". And Anastasia from the city of Izhevsk in the Autonomous Republic of Udmurtia was promised that in the future Putin will visit her personally after live showed her a wooden house-a ruin, of which she is the current plan — should be evacuated only in 2029.
"I'll come to You. I plan to be in Izhevsk, I'll come to You and see what you have going on there", — said Putin.
One more question, shown on Russian television, but not received an answer, was: "why is the problem can only be solved after Your immediate attention?"
Less attention to international Affairs
Only a few questions dealt with international issues, in particular, sanctions against Russia, situation in Ukraine and relations between the U.S. and Russia. On the latter, Putin said he hoped — "our relationship will eventually come back to normal," but that the United States is now covered by the "Russophobia", and in the American media there is "hysteria".
Putin expressed surprise at the fact that a former FBI chief James Comey through his friend passed information about his conversations with President Donald trump in the media. Putin noted that on this basis it is possible to compare the Komi and escaped to Moscow by whistleblower Edward Snowden.
"And what if the FBI Director is different from Mr Snowden? Then he is not the head of intelligence service, and he is the advocate who defends a certain position. By the way, if in this regard against any prosecution will occur, and so forth, and to him we are ready to provide political asylum in Russia," Putin joked.
About Navalny will not speak
There were only two, and that is the indirect question, after the straight line was already three — and-a-half hours, about corruption in the political elite of Russia, which draws attention to the liberal opposition led by Aleksei Navalny and which brought to the streets tens of thousands of Russians took part in demonstrations across the country on March 26 and June 12.
"Now, about the corrupt officials. This problem is known. I think that it is sharp", — Putin said, but did not elaborate.
The President has expressed his readiness to talk with the constructive opposition, but not with those, "who uses the situation to score political points." More close Putin opposition leader Alexei Navalny, whose name he never speaks publicly, didn't mention.
Comments
comments