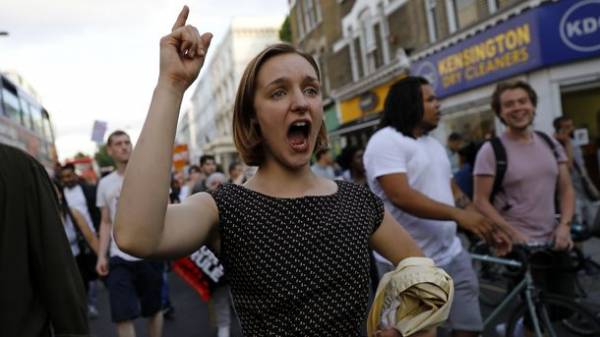 In London were followed by spontaneous protests, the participants of which expressed dissatisfaction with the actions of the authorities and demand justice and an explanation of the causes of fire in high-rise building ", Grenfell tower," reports the Russian service Bi-bi-si.
A few dozen people on Friday afternoon briefly broke into the building of the municipality of Kensington and Chelsea, which is responsible for the burned building, with the requirement immediately to assist the victims of the fire.
The crowd of protesters gathered also at the community center in which the Prime Minister Theresa may met with victims of the fire, demonstrations were also held at the residence of the Prime Minister at Downing street.
Several hundred people also stopped in front of the main building bi-Bi-si in Central London with placards saying "Justice for Grenfell", held a minute of silence in memory op the dead, and then moved on.
Theresa may ordered to provide 5 million pounds for the purchase of clothing, food and basic necessities for the victims.
Currently, according to official data, the fire killed at least 30 people, however this is not the final figure and, most likely, as they say representatives of the authorities will grow, since a total of about 70 people unaccounted for.
According to police, there are no indications that the fire was the result of deliberate arson.
Comments
comments