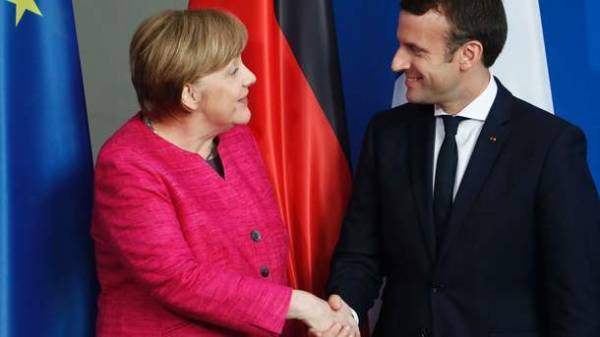 Access to the European political arena of the President of France Emmanuel Makron and the Union with German Chancellor Angela Merkel will help Ukraine in confrontation with Russia, as they will take a tough stance towards Moscow. Told about it in interview "" the senior Vice-President of the Center for European policy analysis and editor of the authoritative British magazine the Economist, the author of several books about the confrontation between Russia and the West Edward Lucas.
In his opinion, the arrival of the Macron to power in France – one of the most significant things that happened in Europe for ten years, it is really important.
The journalist claimed that the French President and Merkel can form a strong Alliance against Russia, which is Ukraine.
"I think the macron becomes extremely tough against Russia, for the reason that he saw Russia attacked the French political system. If Angela Merkel surely will win the September elections in Germany, the Union of Merkel and Macron will be very good for Ukraine and extremely tough against Russia. Not sure about the details of the agreements Minsk, but I am sure that sanctions will undoubtedly continue. In Europe the persons who make decisions, more and more serious about confronting the threats in security on the part of Russia in the "hybrid war": attacks information, financing, murders… It is their serious concern. And I think that this Franco-German leadership in European politics will be very important," said Lucas.
He noted that the tandem Merkel-macron Russia will be heavier in the "Minsk process".
"I think the focus on European defense will continue, and on Russia as a priority threat to her. Russia will be much more difficult to follow the tactics of "divide and conquer". There will be more steps to strengthen energy security, to combat the information war. I think, Europe feel that might deter Putin," – said the British journalist.
Comments
comments