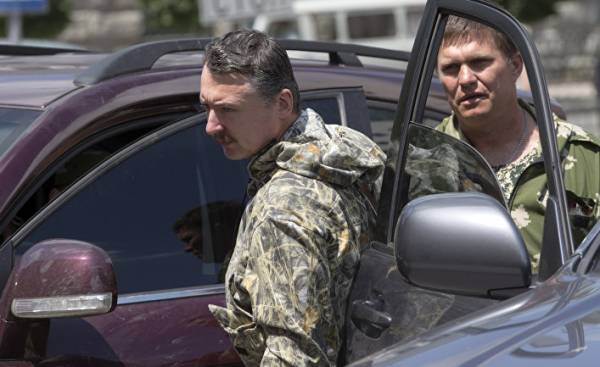 In April 2014, armed men — 52 — entered the town of Slavyansk. Since the war began. "We all thought that the Russian never surrender".
"This war began 52. They also organized and the first resistance. It all started in Slavyansk", — says Andrey Sedov.
Three years later, almost 10 thousand people killed, 23 thousand were wounded and 1.7 million people have been forced to flee their homes.
When the first "volunteers" have invaded the Ukrainian Slavyansk in April 2014 and took control of the police, Sidlow "was responsible for logistics."
Today, he works in the "Union prisoners of war Donbass" and "Movement Novorossiya Igor strelkov". But in addition also works as a taxi driver earns money.
"Now no one remembers these men who came from the Crimea under the leadership of Igor strelkov and started to fight back," says Sidlow.
"Today our name under the ban"
Sedlov working on the former Russian intelligence officer and leader of the nationalist Igor strelkov, whose real name is Igor Girkin.
Three years ago, when he led the rebel forces, who were supported by Russia, Kremlin-controlled media wrote about him as a hero. In Ukraine and in Europe it is a symbol of Russia's role in the war.
After serious internal disputes and two weeks after having been shot down Boeing MH-17, Strelkov was removed from his post.
"Today, to mention the name strelkov virtually banned. And that's bad, because we know in the Russian media. The very name of our movement is betrayed anathema, because we wear his name," says Sidlow.
The Union of forgotten prisoners of war
On the walls of Russian Orthodox icons, banners and photographs of soldiers of the rebels taken prisoner. Cramped and dark office, "Union prisoners of Donbass" scored the half-empty boxes, bags, there is an old sofa and a camouflage jacket.
The very smell of cats.
We work not only for prisoners who are citizens of Russia, but also for citizens of Ukraine and Donetsk and Lugansk republics, says Setlow.
— And what do the prisoners think today about their fate?
— They think they're nothing. Of course, they are bitter. But even if here in Russia don't think about them, there is nothing surprising in the fact that in the rest of Europe to their fate no one cares.
Prisoner of war Maxim: We are the product
From the office in Moscow we are on the Internet contacted Maxim Garmash, head of the "Union prisoners of war."
Former soldiers of the separatist sits in a prison in Dnipropetrovsk. He was sentenced to eight years for "participation in illegal armed formations", terrorism and illegal use of weapons.
"I've been here a year and nine months," says Garmash.
"It's not that we forgot about. They just use us as a commodity."
— What do You think about your future?
"I see myself as a happy person, who has a large family, children and grandchildren. Now I'm trying to help others who found themselves in the same situation as me. We are doing everything to become free."
— And You would have gone to war if he knew that it would end like this?
"I did what I thought was my duty," answers Garmash.
"I had no idea that can find yourself here, but we knew that we could be taken prisoner".
About 150 prisoners of the separatists in Ukrainian prisons was asked not to give them. They do not want to return to areas controlled by the separatists.
He predicts a real war in Ukraine and the uprising in Russia
While the correspondent of Aftenposten's still in office, appears in the doorway of a former soldier.
He lives in Donetsk, but originally he is from an Eastern European country outside the EU. He is now in Moscow to receive medical treatment at the clinic.
— In the battle for debaltseve shot me seven pieces. Doctors in Donetsk are afraid to operate on me. So I am now in Moscow, — he says.
Half of my office was killed. For me the war was over. We could turn the tide of the war four times. But we were betrayed, he says.
— And who is betrayed?
— Heads and traitors. But wait: sooner or later between Russia and Ukraine will start a real war. And in 4-5 years start world war, and then it's all over, says ex-soldier.
— I think that people have betrayed themselves and their values, — considers Eldar Hasanov. In the Slavic team of the separatists he was the chief of staff, now occupies the next office.
And the bosses, and most people thought only about how its to fill the pockets, — said Hasanov.
He suggests that 10 of the 52 first "volunteers" were killed. Some of them on Russian TV channels were praised as the greatest of martyrs.
Their boss — the arrow — has regularly appeared in the Russian media with prophecies that Russia is moving toward war and the civil war.
"When the ruling elite of Russia will begin an open struggle, there will be a revolution. The split has already begun, but it is not so obvious. When this happens, Maidan in Russia will be possible, and even likely," — said Igor "Strelkov" Girkin in an interview with Russian nationalist portal.
The repentant Russian journalist about hybrid war
During the discussion in Moscow about the living conditions of people who fled from war in Ukraine, the amazement of the participants of the speech is loyal to the Kremlin the journalist Uliana Skoybedy of "Komsomolskaya Pravda".
In the three years before that she, along with other Russian journalists urged young men to go to Ukraine.
"I feel guilty. We in the media urged them to help our brothers," said Skoibeda, according to the newspaper "Kommersant".
"This shows the hybrid nature of Russia's relations with Donetsk, Lugansk and Ukraine. We do not like war, but supported, but "they are not there", but we weren't called, and television." The authorities must now decide: either to accept the status of the militia, or to cease to lure people."
Officially, the Kremlin still refers to the war in Ukraine as an "internal civil war", although it has been documented that the rebels have obtained thousands of soldiers-"volunteers" and a huge amount of military equipment from Russia.
"All I asked the boys to pack my things and go"
"We really didn't think that Russia will hand over his," says Sidlow. He believes that the conditions of detention in prison, Maxim and other prisoners is much worse, as according to the norms of the Geneva Convention they are not considered prisoners of war.
Media then shouted in one voice: "Guys, pack up and go!" or "get Ready: the country must be protected!". They were asked to go to protect the homeland.
'But they thought that, when traveling to another country with weapons in their hands?
We believe in the slogan that Russia does not hand over his. They thought that Russia would help them. That's why she went.
— What do you think Russian prisoners that today they are not wanted?
— They understand that now they do not represent any value. And they, of course, very painful, because they consider themselves soldiers and heroes.
Per Anders Johansen (Per Anders Johansen) is a correspondent for Aftenposten in Moscow
Comments
comments