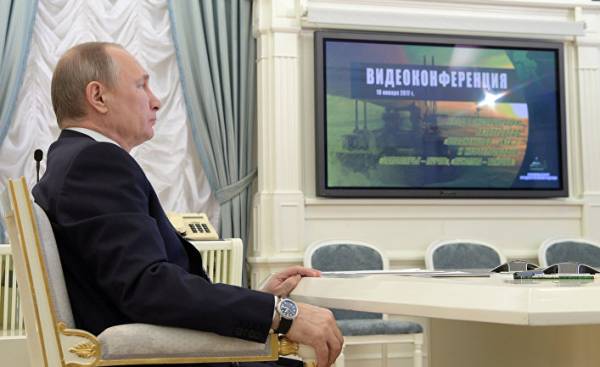 You can be the President of the Russian Federation and at the same time quite a collector of the best works of high watchmaking Swiss made…
Emmanuel macron has had Vladimir Putin a Grand reception in the Palace of Versailles. On this occasion, as quite often recently, the President of Russia made a bid for restraint: black suit, red tie, Swiss watch IWC Mark XVII moderate price — about 5 thousand euros. The most modest in his personal collection.
But, as a rule, regardless of the situation — whether award of the medal to the athlete with disabilities, participation in hunting or the greetings of workers, Vladimir Putin, free from prejudice collector, do not miss the opportunity to demonstrate samples of their numerous watch collections. So, on the occasion of signing the agreement on the official annexation of Crimea to Russia the Russian President wearing Blancpain Aqua Lung. Watch worth 10 million euros and is made of steel and at the time was one of the cheapest in his collection. In addition, every time Putin wants to demonstrate its closeness to the people, he does it by hours. During the Olympic winter games in Sochi this particular clock was in his hand when he was handed the silver medal to Marat Romanov, the athlete from Paralympic Curling team. At the opening ceremony of the games, we all could see on his wrist the Blancpain Aqua Lung.

Exclusive models
If you believe the photos in the media lately, with its collection of exclusive timepieces worth an estimated 700 million euros (six times more than his annual salary to 112 thousand euros), the new Russian Tsar with a taste picks up the watch. So, during the UN summit it was Patek Philippe Calatrava watch with a gorgeous dial made of ivory (approximately 20 thousand euros) or Breguet Marine (estimated at 25 thousand euros) to the meeting of G20. Lately he often wears classics from the collection of the IWC namely the Mark XVII.
In any case, we can't blame Vladimir Putin, in an unfortunate choice of products of Haute Horlogerie. Like any self-respecting collector, Putin has a collection of Patek Philippe 5039 model in yellow gold with perpetual calendar and moon phases, with an elegant leather bracelet, which can be purchased for the modest sum of 45 thousand euros.
However, the recent model of A. Lange & Söhne, with its complex mechanisms, filigree trim, and rising on the auction price, ousted from the heart of the king Vladimir Patek Philippe. Putin, of course, wanted to apply a brilliant riposte to Barack Obama with his Jorg Gray chronograph for 250 euros by buying the Tourbograph a Lange & Söhne for 470 thousand euros! Purchase one of the rarest luxury models of German watches that combines tourbillon and chronograph, a matter of respect. And obviously, neither Donald trump nor Emmanuel macron will not be able to compete with him in this matter.

Sport and luxury
However, the Russian President is still able to stay close to the people, proudly showing off a sporty and affordable watches during hunting trips. We could often see it Blancpain Leman Aqua Lung Grande Date or the Blancpain Leman Chrono Flyback, at 10 euros apiece. During a visit to one of the Russian plants in 2009 he gave one of his watches Blancpain simply working on the memory of the meeting with the President. Some will say that it is an act of generosity, others say it's pure PR. But perhaps Putin just wanted to free up space in his safe for new Parmigiani Fleurier for 30 euros…
Comments
comments