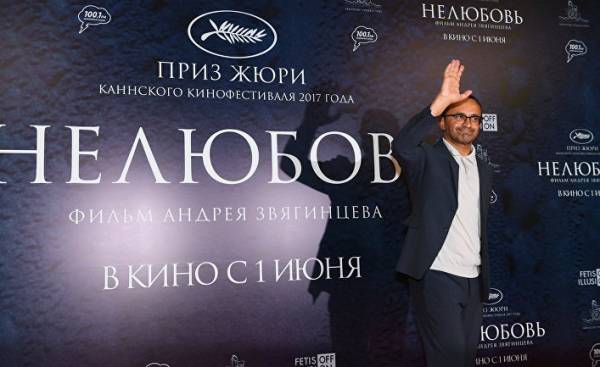 From the very beginning of the film "Dislike" was one of the favorites at the Cannes film festival. And not just because Director Andrei Zvyagintsev, which today is probably the most well-known Russian Director, not aloumim Putin's regime, praised the Cote d'azur even in the critical strip "Leviathan". "Dislike" also received the award in Cannes — the jury, which was chaired by Pedro almodóvar.
New and re ruthless to the item the film is at first glance closer to a family drama than to denouncing the system, but it only seems so. The story of a boy, it is not necessary for parents in the background reveals the enormity of the system that society teaches indifference. Zvyagintsev himself says that we will most likely indulge in fantasies because it has long been a critical displays not only the Russian reality. But in Cannes it is not enough who believed. By the way, "Dislike" was created without state support because of problems with the "Leviathan". However, the Director denies it, in contrast to producer Alexander Rodnyansky.
— Reflex: You claimed to have made a movie about the private stories that is not associated with the society and political realities. However, You can't ignore the context.
Andrey Zvyagintsev: of Course I take into account. But "Dislike" tells us primarily about human relationships, the most deep-seated fears and passions. If you watched "Leviathan", then you know that I did not skimp on political motives, and there they were appropriate. But I don't want to talk about politics. It was enough.
— However, I would call a "Dislike" a very social film, not a private history. The film tells about the life of Russian middle class, a wide layer of people, who, because of dissatisfaction with life tend to biased thinking and the return to the old Soviet order.
I agree that the middle class, as you call it, in Russia not in the best condition, lacking the necessary support. But I don't think we resurrect the past and trying to adapt it to modern times, or that this explains the problems that I describe. However, I insist that in my film we are talking not only about Russian society and the Russian problem. Today people are selfish everywhere, and it is not a Russian peculiarity. Similarly, the universal frustration that people's dreams of happiness cannot be realized because it always remains in the indefinite future. And the fact that in the pursuit of happiness people ignore their loved ones and neglect them, including families and children, too, happens to everyone — not only Russian. Remove the blinders.
— What about the scene where in the background the TV works and transmit messages from the Ukrainian front. These scenes You did not want to imply anything?
— It is just an illustration and not propaganda, which I credited. Just things like that show on TV, and they are part of Russian life. And as I said, not only Russian.
— The film "Dislike" is not funded from the budget. Whether this is problematic because of the "Leviathan" and political criticism in it?
— No. Just my producer decided that this time we will look for other financial sources. Our project is international, so naturally, that it was attended by the foreign company. We did not need funds from the government.
Say You wanted to make a remake of Bergman's film "Scenes from matrimonial life". In the end, however You prefer "Dislike", which, however, is reminiscent of the "Scene".
I've been planning a remake of this film Bergman and four years sought copyright. I was always attracted to the idea of making a film about what happens in relationships that have been going on for a long time. Finally, it's all intertwined, and the result was a "Dislike". But with Bergman, I do not dare to compare ourselves: it is and will remain for me an unattainable ideal. "Scenes from a marriage", I think the best movie about divorce I've ever seen.
— Is it after the "Leviathan" You are talking about what you want to shoot the big film about the Second world war?
— I conceived of the film long before the "Leviathan". There is a script, and I'm ready to make it into a movie anytime. But it's not in my desires and the money, because this is an extremely expensive project. It's hard to say if we can find ever it means.
— Let us return to "Dislike". This story has a real basis, like "Leviathan"?
— No, now we have relied on fiction. Something so terrible, probably, no one cared. Although personally, I like this story reminded one woman from the talk show, the single mother, who raised her child, and then when he was 14, decided to send him to an orphanage. He lived in a boarding school near their home, and when he came to see old friends and met the mother, she pretended that does not know the child. Life can be very cruel.
— Today, You are perhaps the most famous Russian filmmaker and national media referred to You as "Director of export". They say, you are "them". Does it bother You?
— Of course, Yes. I've heard that I'm not Russian, because they criticize their country and their employers. What nonsense! Once I said I consider myself a citizen of a single country called Cinema. The film knows no boundaries, so I don't care what is happening in the Russian, German, or perhaps French cinema. Interesting to me good Directors and good movies, because a good film will understand everywhere, regardless of nationality. And the fact that my films look at the West, I hope, means I know how to speak the universal language. And this, in my opinion, more important than to be a proud citizen or a proud American.
Comments
comments