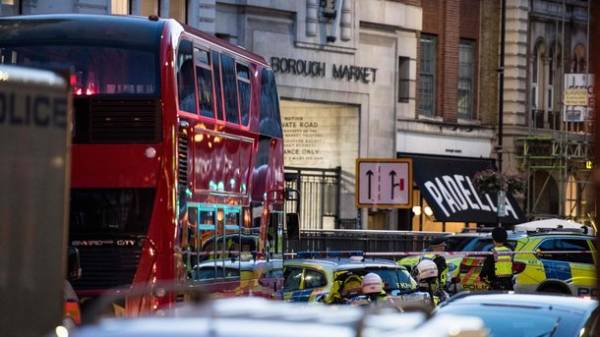 As a result of the terrorist attacks in London killed six people, more than 30 people were injured. Law enforcement officers killed three of the attackers.
It is reported by the London police on Twitter.
AC Rowley confirmed "At this stage, we believe that six people have died in addition to the three attackers shot dead by police."
— Metropolitan Police (@metpoliceuk) 4 June 2017 R.
Assistant police Commissioner mark Rowley has reproduced the course of events in London last night.
So, at 22:08 (local time) the police started receiving reports of pedestrians on London bridge.
After the collision, the car continued to move in and around borough market. There, the suspects got out of the car and began attacking passersby with knives.
Armed police killed 3 of the attackers in the borough-market within 9 minutes after receiving the call. The suspects were wearing items similar to a suicide belt, but it turned out that they were fakes.
At the time of publication of the statement, the police say that attack killed 6 people and at least 20 were injured.
Our latest statement on the #LondonBridge incident. We have taken 30 patients to five hospitals across London https://t.co/hCiKVCBrnb pic.twitter.com/B3PrRKoMUR
— London Ambulance (@Ldn_Ambulance) 4 June 2017 R.
At the same time, according to doctors, the incident 30 people were hospitalized, several people received medical assistance on the scene.
As reported by the British media, on the night of June 4 in the area of London bridge the car made arrival on pedestrians. Then became aware of the attack using bladed weapons at the nearby borough market-market. Eyewitnesses also informed about the intensive shooting.
Comments
comments