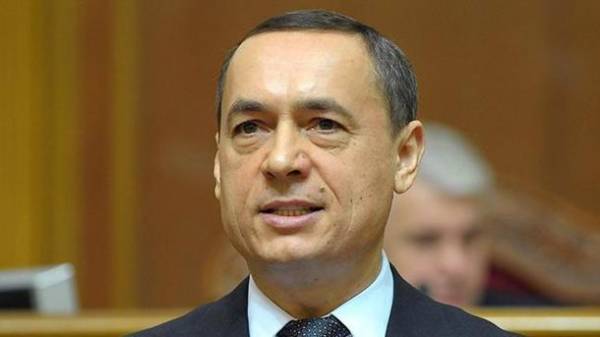 Solomenskiy district court of Kyiv at the request of detective National anti-corruption Bureau arrested belong to Mykola Martynenko of the share capital in three companies.
This is evidenced by the data of the Unified state register of court decisions, writes Liga.net.
On 23 may, the court decided to arrest 5% of the share capital of inter-Vent, 14% of the Vortex and 5%, OOO TEKHNO-invest.
Martynenko is forbidden to carry out any transactions which may lead to transfer belonging to him the share of property in the authorized capitals of the mentioned companies.
According to data of the Unified state register of legal entities, business partners Martynenko in the company Vortex was the former co-owner of WOG Petro Dyminsky, Lanna lager (most likely a relative of the owner of WOG Sergei Lagura), Sergey Pereloma (first Deputy head of Naftogaz of Ukraine, business stalls Martynenko), Alexander Morozov (former head of the Bank, Director, business development at Smart-Holding Vadim Novinsky), Olga Ponomarenko and the late Ihor Yeremeyev.
As of 2010, the Vortex possessed real property in Vyshgorod district of Kiev region.
In the Techno-Invest where Martynenko owns 5% of its partners are Igor Cerasi (business partner of David Zhvania and Martynenko) and Vyacheslav Tsiganenko, a former aide to ex-Deputy Zhvaniya.
In the company inter-Vent in addition to Cereza, partner Martynenka is Andrey Shchukin, ex-assistant Zhvania. As TEKHNO-invest, the company was a shareholder of Diamant Martynenko.
We will remind, earlier it was reported that the court arrested property of Martynenko.
As reported, the evening of 20 April, the ex-Deputy from the popular front Mykola Martynenko presented the message of suspicion.
SAP asked the court to set bail in the amount of 300 million hryvnia, however, 17 MPs and Ministers have taken him on bail. In the case of proof of fault to it threatens from 8 till 12 years of prison.
Martynenko was detained as part of an investigation into the theft of funds GP VostGOK in the procurement of uranium concentrate.
According to SAP, from 2013 to 2016 criminal organization, which allegedly included Martynenko, caused the budget of 17.28 million dollars in damages.
The popular front has distributed a video statement, former MP where he accuses NABOO in "fabricating the case".
Comments
comments