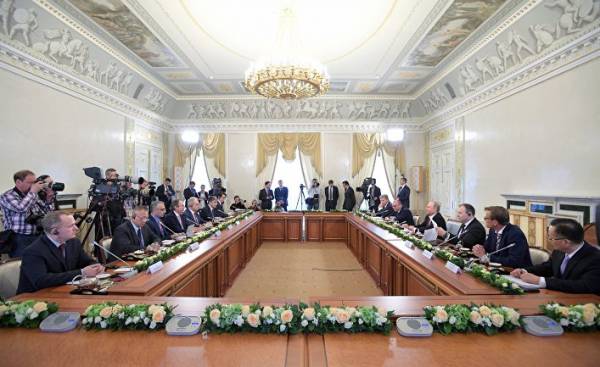 Four days later, after a meeting in Versailles with Emmanuel Macron Vladimir Putin speaks at an economic forum in St.-Petersburg before the gathering on the occasion of the audience. In his speech addressed to representatives of Russian and foreign business circles, gathered on the occasion of the "Russian Davos", the Kremlin may hint at its plans for the upcoming next year's presidential elections. And he will speak even more confidently, as 10 months before the election, which he has not declared his candidacy, the economy is growing again after more than two years of recession. In comparison with last year Russia's GDP grew by 0.5% in the first quarter. This figure confirms the most optimistic projections for the annual increase of 2% (1.4% of the more cautious IMF forecasts) and far from a decline of 3.7% in 2015 and 0.2 percent in 2016.
"Of course, it's not such a strong growth that we would hope for, but the performance is not worse than in France", — said Alexander Shokhin, President, Russian Union of Industrialists and entrepreneurs. He spoke Thursday at the opening of the Franco-Russian round tables, for the first time included in the official program of the forum.
Four Directors CAC 40
"Despite all the difficulties, many of your companies continue to invest in the Russian economy", — said the oligarch Gennady Timchenko, sitting at the same table with the heads of the four CAC 40: Total, Schneider Electric, Société Générale et Engie. The presence of the latter confirms the desire of French companies to enhance cooperation, taking advantage of not only the economic recovery of Russia, but a hypothetical warming of relations between Moscow and Paris. All mean a meeting of Vladimir Putin and Emmanuel Macron in Paris.
"The signal was clear: Putin was the first head of state, who met with the President of France. Their Frank and honest dialogue was an encouraging signal for our companies, as a good political atmosphere simplifies our lives," said Isabelle Kosher (Isabelle Kocher), Director-General of the Engie. "It's good that they met, but our decision to open a plant in Russia does not depend on their good relations," the caution says Ghislain Leckie (Ghislain Lescuyer), CEO of Saft, which seeks to expand the market of customers. "The business climate has improved. In any case, we are here to stay," said Olivier Charmeil (Olivier Charmeil), Vice-President of Sanofi. He came on the occasion of the French ceremony of the forum: the company announced the start of export supplies of insulin, produced at the Russian factory.
However, it is not expected the signing of any major Franco-Russian contract. "Now there is a political fuss. Economic discussions at the summit will continue," — says the French businessman, who, since Thursday, the scheduled meeting with the Russian partners.
Comments
comments