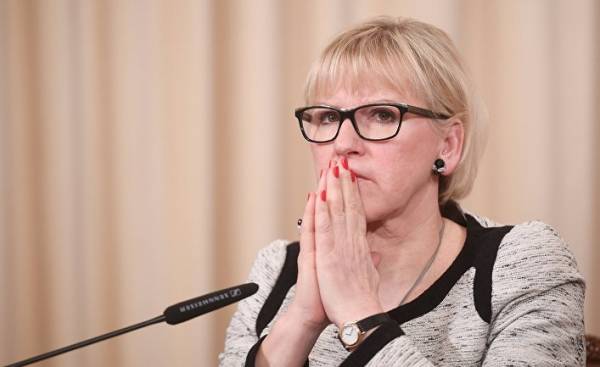 The likelihood that Russia will start a war against Sweden, Putin calls "a perfect absurdity".
"If Sweden joins NATO, it will affect our relationship in a negative way, because we assume that this side here is from Sweden — to us, the military bloc's infrastructure closer", — said Vladimir Putin Agency TT in Saint-Petersburg.
"But that doesn't mean at all that we have hysteria begin or we will nuclear missiles in Sweden to target. But something will have to take, because we see this as an additional threat to Russia."
Putin stressed that the Swedish people themselves should decide whether a country is in NATO. There is no reason to assume that Russia would want to start a war against Sweden, he says.
"This is a perfect absurdity! In Sweden, there is no reason to join NATO, since we have no plans to threaten her."
Editor in chief TT Jonas Eriksson (Jonas Eriksson) met with the Russian President as chair of the Alliance of news agencies EANA. Many other representatives of international news agencies also attended the meeting at the Palace in St. Petersburg, where Putin led the reception in the room behind the brown table decorated with floral ornaments and delicate gold details.
The President looked relaxed and was in a good mood, not sparing time for detailed answers to all questions, which revolved around Russia's relations with the outside world. The questions were given a little over two hours, and during that time he never turned to his notes. On the contrary, he sometimes seemed bored, and was doodling something in his notebook.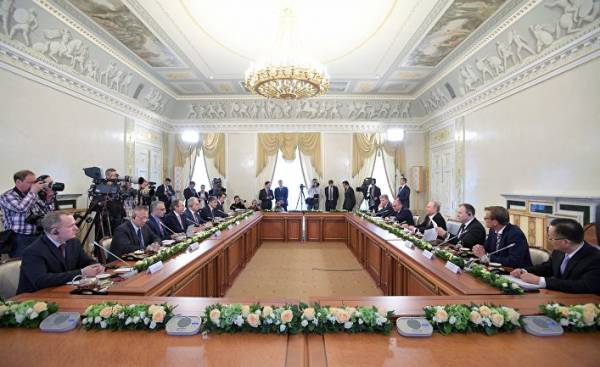 © RIA Novosti, Alexei Druzhinin | go to Photobacterium of the Russian Federation Vladimir Putin during a meeting with representatives of international news agencies on the sidelines of the St. Petersburg international economic forum. 1 Jun 2017
If one country wants in the course of the development of relations with the other country to exert pressure, it should be done in the framework of bilateral relations, and not through joining NATO, according to Putin.
"The fact that this (joining the Alliance — approx. ed.) will limit the country's sovereignty in making some decisions — and this is obvious because, for example, the location of some of the military infrastructure on the territory of NATO countries — it is to a certain extent comes under the sovereignty of the country. This worries us," said he.
"Let Russia will refrain from threats of any nature in our direction," — said the Minister of foreign Affairs Margot wallström (Margot Wallström).
"We choose our own foreign policy and security policy. Our line has long been clear, and this government, since it came to power, was always very clearly stated that we do not participate in military alliances, we focus on the cooperation and strengthen its own defense. This line we will continue to stay in the future. So this is counter-productive and they should stop it".
Similar rhetoric was heard from the Russian side in the past.
"This is nothing new, so, thank God, we can not really worry about whether we will cope with it," says Margot Wallström.
"We will continue to choose our own path, to make decisions and cooperate, as well as now — including with NATO. We will not join military alliances, and we plan to build up our own defense. It is obvious that the purpose of the exercise and activities we conduct — to ensure that Sweden and the Swedes can feel safe.
Although the question is not and was not raised, Putin took the opportunity and commented on the information about the Russian submarines in the Baltic sea. The probability that in Swedish waters could be a Russian submarine, he called false information.
"It's just absurd."
In connection with other matters from the heads of news agencies, Putin denied that the Russian state was involved in a hacker attack with the purpose to affect results of elections in other countries. Concern about this began to grow in Europe after the us authorities expressed such suspicions.
"No hackers will not be able to influence the electoral campaign in one of the countries of Europe, anywhere in Asia and in America."
Putin also said that the missile defense in South Korea contributes to a new arms race, in this connection, Russia also intends to increase its presence in the region. He called the Kuril Islands a suitable place and stressed that Russia is not going to just stand by and watch as other countries increase their military forces along its borders in Europe and East Asia.
TT Agency also asked to comment on the statement that the US defence Secretary Jim Mattis (Mattis Jim) made for Dagens Nyheter, and promised that if Russia attacks Sweden, the United States will stand on the side of the Swedes. Putin ended the meeting, and without giving any clear comment about it.
"Putin said that the potential accession of Sweden to NATO would be "additional" threat to Russia, which are consistent with his previous statements," notes Jakob Hedenskog (Jakob Hedenskog), analyst in the field of security policy at the Institute of total defence.
"It would be another manifestation of the fact that Russia calls the environment. If Sweden and Finland, which Russia considers neutral, had entered a military-political bloc, which Russia sees as hostile, it would be perceived as a very serious signal," explained Hedenskog Agency TT.
He says that Russia feels genuinely threatened by NATO from all sides, and this feeling permeated policy documents and statements by senior Russian politicians.
Putin also noted that the Swedish membership in NATO would have "negative consequences" for relations between Sweden and Russia.
TT: You see it as a threat?

Jacob Hedenskog: Yeah, you could say. Political contacts between Sweden and Russia have been frozen since Russia's annexation of Crimea (2014), but recently they thawed, when Margot Wallström visited Moscow and met with foreign Minister Lavrov. This would mean a return to very cold relations that occurred immediately after the Crimea — if not worse.
Sweden and NATO
In the defense of the NATO Alliance, which was formed in 1949, has 28 member countries. Among them Denmark, Norway, Iceland and the Baltic countries.
The state unites the agreement under article five of the NATO Charter, under which an attack on one of the countries of the Alliance will be regarded as attack on all.
In respect of non-members cooperation with NATO is carried out, including in the framework of the program "Partnership for peace" (PFF), in which Sweden is included since 1994. It also takes place through the Euro-Atlantic partnership Council, founded in 1997. Partner countries cooperate with NATO within the Partnership for peace planning and analysis (Parp), which assesses the ability of countries to participate in international operations.
The Swedish government signed an agreement with NATO on host country implies that Sweden is now easier to support and to accept support from a defense Alliance in case of crisis at home or nearby.
Comments
comments