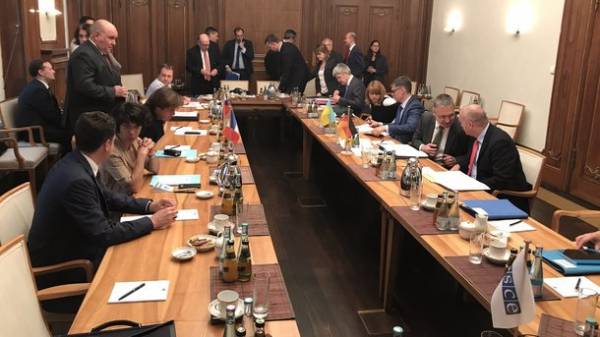 In Berlin (Germany) started the talks of the Deputy foreign Ministers of the countries-participants of the Normandy format between Ukraine, Russia, France and Germany. This was announced by the Ambassador of Ukraine in Germany Andrey Melnik in his microblog on Twitter.
"At Villa Borsig in Berlin started the negotiations in the Normandy format at the level of Vice-Ministers," wrote Miller.
Normandy 4 Oversight Mechanism has just kicked off in Berlin at Villa Borsig with First Vice-Foreign Minister Vadym Prystaiko pic.twitter.com/7nAy0uqlGe
— Andrij Melnyk (@MelnykAndrij) 30 may 2017 R.
On well Borsh have Berln startovala speak to Normanstone format on run VCE-menstru (Minsk Agreement Oversight Mechanism) pic.twitter.com/F6CNkbVKjZ
— Andrij Melnyk (@MelnykAndrij) 30 may 2017 R.
As reported, the Ukrainian foreign Ministry expect from tomorrow's meeting of Deputy foreign Ministers push for a future meeting of the heads of States.
Comments
comments