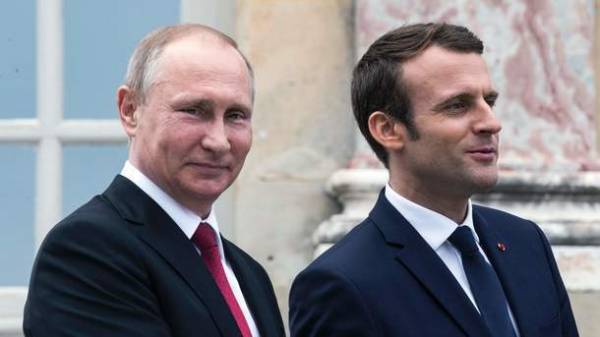 The President of France Emmanuel macron, a young and inexperienced politician to tame the Russian leader Vladimir Putin, who during a meeting in Paris tried to take in the "development" of the French President. Such opinion in the comment to "GORDON" was expressed by political scientist Volodymyr Fesenko.
According to him, if Europe and the United States are unable to tame Putin, and the Makron will no longer be able to oppose him.
"Putin could not subdue the Americans, Merkel (Chancellor of Germany Angela Merkel – ed.) and the collective position of the West. It's not because he's that great, terrible and mighty. The case is different: Russia is a nuclear power, so the responsiveness of the West are limited. War with Russia, no one will, because it's too dangerous. The effect of sanctions is also limited. That we have many people mistakenly think that sanctions Moscow it is possible for something to force. No, it's an illusion. Of course, the sanctions weakened Russia, and help to contain it. But to force it to a particular action using sanctions will not work. So no need to think that macron will be able to tame Putin. Here people do not decide," – said Fesenko.
He noted that in Paris, Putin tried to take the Makron in the development, so to speak, to charm, to find common ground.
"Macron is a young and inexperienced politician. And do not think that this meeting is the attempt by the Makron to tame Putin. I would say the opposite. The meeting in Paris is Putin's attempt to charm of Him and fuck with his head. To put it in professional terms Putin, he tried to take the Makron in the development. To recruit him, the Russian President is unlikely, because it is too dangerous. The elections in France Moscow relied on other candidates, so now they are taking counteractions. That is Putin lost the election in France and is now trying to take revenge by playing on the ambitions of Macron", – said the analyst.
As reported, the French leader at the end of talks with Putin declared that is ready to impose new sanctions against Russia in case of escalation of situation in Donbas. The Russian President answered that the anti-Russian sanctions will not help the normalization of the conflict.
Comments
comments