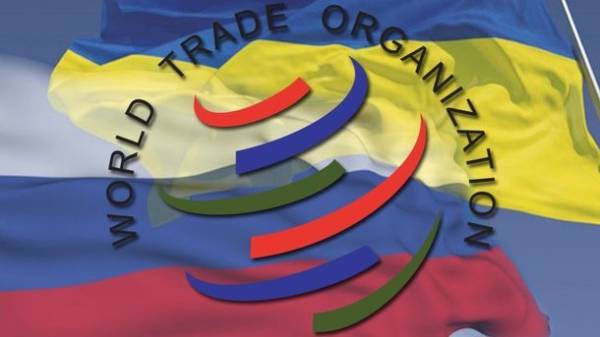 Ukraine has declared its readiness to conduct initiated by Russia consultations in the framework of a trade dispute in the world trade organization (WTO). This was announced in the message of Ministry of economic development of Ukraine on Monday, may 29.
"29 may 2017 Ukraine received a request on readiness to conduct these consultations, in accordance with the norms, principles and commitments undertaken when joining the WTO", – noted in the Ministry.
The Ministry recalled that on 19 may, Ukraine has received an official request from Russia for consultations under the dispute settlement mechanism of the WTO in connection with, as stated, the Russian Federation, "constant practice of trade restrictions".
"The Russian Federation applies the practice of permanent restrictions of the legitimate rights and interests of Ukraine, in particular, continuing keeping targeted trade aggression against Ukraine. The demand of Russia on carrying out of consultations in the WTO – is the next step of the economic, commercial and legal pressure on Ukraine," – said in turn, the Ukrainian Ministry.
The Ministry specifies that in order to protect the rights and interests of Ukraine together with other interested state bodies carefully analyzes and processes the request of the Russian Federation, as well as measures that appealed to him.
The Ministry reminded that in the last two years Ukraine appealed to the WTO illegality of the introduction of Russia restrictions on the import of railway rolling stock, turnouts and other railway equipment of the Ukrainian origin and the limitation of transit from the territory of Ukraine through Russian territory to third countries.
As reported, on may 20 the Minister of economic development of Russia Maxim Oreshkin said that Russia has sent in the dispute settlement body of the world trade organization, request for consultations in respect of Ukraine introduced restrictions against Russia.
In accordance with the procedures of the WTO, requesting consultations is the first step in filing a claim. Within two months, according to the WTO rules, should be consulted with the government of Ukraine with the aim of finding a mutually acceptable solution to the current situation.
Recall, last week Ukraine extended and expanded sanctions against Russian and foreign citizens, firms and companies. In the updated version of the sanctions list are 1228 people and 648 legal entities.
In addition, were banned and the Russian social network "Vkontakte" and "Classmates", as well as services Yandex, and Mail.ru.
Comments
comments