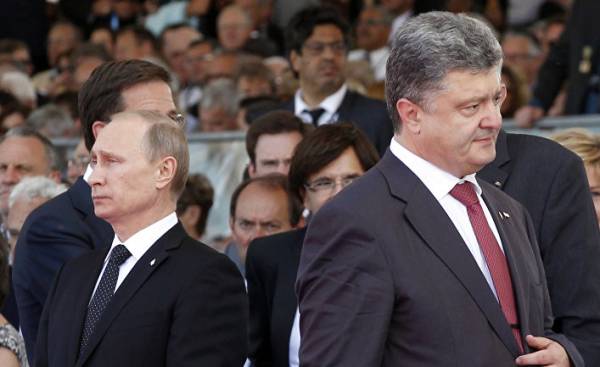 Who do you think is the most popular politician in Belarus? The first answer that came to mind — Alexander Lukashenko — is wrong! While the rating of the Belarusian President unchanged from last forces clinging to 30 percent (in June 2016 was 29.5 percent, but no more recent data, since the Belarusian authorities have expelled from the country those sociological service published the rating of the head of the state) — in Belarus is the policy, the popularity of which Lukashenka can only envy is not envy.
The President of Russia Vladimir Putin. The results of the April survey of the Belarusian analytical workshop (BAM) sociologist Andrei Vardamatski, 65.7% of respondents said that a positive attitude to the Russian leader, 20,4% — is neutral and almost 11% — negative. Other foreign policy — Donald trump and Angela Merkel — among the political sympathies of the Belarusians are in a second League.
However, records for negative indicators has a rating of Belarusian Ukrainian President Petro Poroshenko. Positively to Poroshenko are 2.4% of Belarusians negatively — 68,7%, neutral of 22.8%. The survey took place from 28 March to 13 April, it was attended by 1063 people.
However, for those who are familiar not only with the ukrainophile sentiments of the Belarusian "Facebook", but with real views of the majority of Belarusian society, — these data will not be a shock. Previous sociological studies have shown that about 60 percent of Belarusians consistently support the annexation of Crimea by Russia, choosing the option that is "the return of Russian lands restoration of historical justice", as proposed by sociologists, the answer is "imperialist the occupation" choose 22 percent.
However, it should be recognized that even Poroshenko, however, have set a negative record. Belarusians ' attitude to Ukrainian politicians the last years was not too enthusiastic, but, according to IISEPS (Independent Institute of socio-economic and political studies) in 2010, to the President of Ukraine Yushchenko had a positive stance on 12.3 percent of Belarusians 52,2 neutral, and negative — only 25.5%.
June 2015 the same survey by IISEPS showed how the Belarusians assess world leaders. In the first place already firmly established Putin with 60 percent, and then — the President of Kazakhstan Nursultan Nazarbayev, the President of China, XI Jinping, the President of Poland Bronislaw Komorowski, the President of France Francois Hollande, Lithuanian President Dalia Grybauskaite, the President of the USA Barack Obama. The President of Ukraine Petro Poroshenko and then took the last place: positively treated him 10 percent approving and 67 percent.
It seems that the Belarusians do not like democratically elected politicians. Belarusians love a strong hand, and stability and order and leaders that reflect these qualities. We should not forget about unchallenged dominance in Belarus, the Russian TV channels. One can only imagine what the discomfort Alexander Lukashenko, knowing about the rating of Putin. Importantly, this rating in about an hour "IKS" has not turned into a tragedy for the independence of Belarus.
Comments
comments