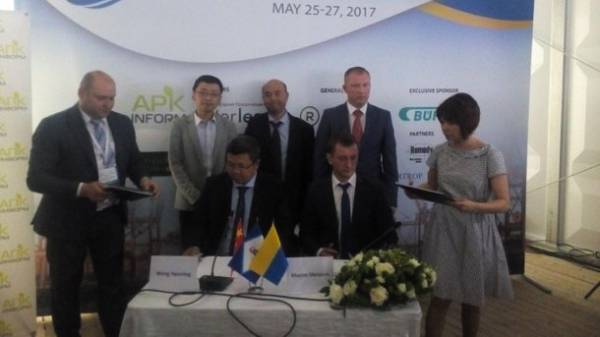 Today, may 25, in Chernomorsk Administration of seaports of Ukraine (ASD) has signed a contract with the Chinese company China Harbour Engineering company Ltd. (CHEC) on the conducting of dredging operations in the sea port "South".
"There will be implemented two major infrastructure project. ASD will spend 1.7 billion UAH, and through the transparent tenders we have achieved savings of 400 million. These funds will be used for the development of other ports – for example, enough to fully carry out the necessary dredging in the sea of Azov. Effective use of funds and the rapid "recovery" of the port infrastructure are the key areas on which we focused our work", – said the head of ASD Raivis Veckagans.
With CHEC, Ukraine has already signed the second contract, and according to them the company in the port Yuzhny will create the water area at berth No. 25, depth of 19 m over 1,065 billion, and will carry out dredging of the approach channel of the port to 21 m of water area at berths №№5-6 to 19 m, and the expansion of Maritime and inland of the approach channels from 140 m to 230 m and 210 m, respectively; all – over 586, 045 million.
According to Veckagans, port South is rapidly developing and has the capability to further increase its capacity. "South enhances the status of most deep-sea port of the country. We see interest from international dredging companies, operators to work here and, accordingly, continue to create the most comfortable conditions for business", – said the head of the Maritime industry.
The contractor for dredging in both cases is China Harbour Engineering Company Ltd – is one of the three largest contractors in the infrastructure sector. The company won two tenders, which took place in April 2017.
The planned works are a continuation of the dredging project, which is implemented in the port in 2012. The earlier dredging allowed in June 2014 in a pilot mode to declare draught for vessels handled at berths No. 5 and 6 (state of the stevedore ICC South) to 18.5 meters.
State-owned China Harbour Engineering Company established in 1980. The main activity of the enterprise from the outset was the construction of facilities on the territory harbours terminals, piers, bridges, harbors, dry docks, etc. Dredging has been and remains an important part of business CHEC. About 90% of large and medium terminals of China was built by China Harbour Engineering. Now the company has about 60 foreign representative offices, which serve customers in 80 countries.
In 2005, CHEC has teamed up with China Road and Bridge Corporation specializing in the construction of roads and bridges. In the merger there was a major player – China Communications Construction Co., Ltd. (CCCC) and its subsidiaries, including CHEC, have maintained their profile of activities. In recent years, the holding has cemented its position as one of the largest contractors in the world. Last year, the leading American publication Engineering News-Record named CCCC third largest contractor in the world
Comments
comments