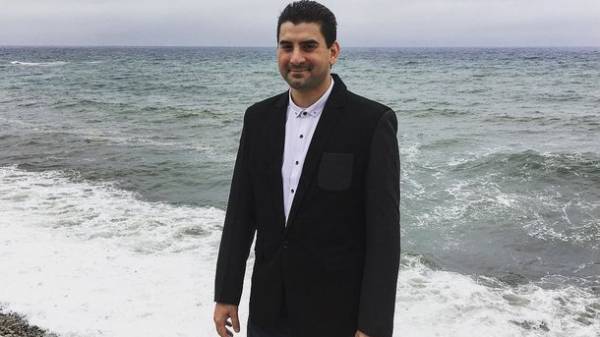 On the night of the attack at the stadium "Manchester-arena", the journalist from Boston David Leavitt (David Leavitt) double-joked in his Twitter and called this mediastinal. Statements about the pop star Ariana Grande, whose concert was a blast, it was worth the already odious reporter reputation and work – TJ.
The first message Leavitt published when the police confirmed the presence of the victims at the stadium.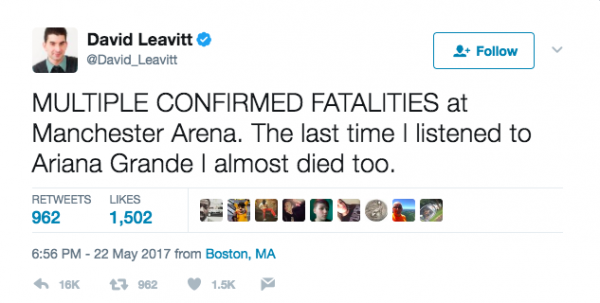 "Numerous victims "Manchester-arena" confirmed. The last time I listened to Ariana Grande, I also almost died"
After a few minutes, Leavitt chuckled over the name of the American singer, according to him, similar to the position of the coffee shop.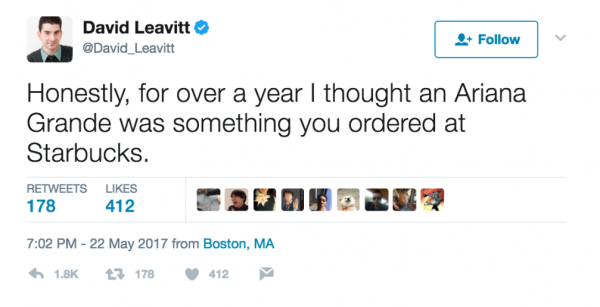 "Honestly, I thought Ariana Grande is something you order at Starbucks"
Statements, the field has caused outrage Twitter users who bombarded it with criticism, with calls to remove the tweets and to abandon journalism. Against the reporter turned colleagues and celebrities.
@David_Leavitt 23 dead. Over 10 were children under the age of 18. 60+ injured. Just to put it in perspective for you.
— Catherine Gill (@theDirtyVegan) 22 may 2017
"23 people were killed. More than 10 of them were minors. More than 60 injured. Just so you know"
Wow. @David_Leavitt 19 people dead, likely most of those were children. What an actual piece of shit you are. pic.twitter.com/04j477L86H
dead mow cinco (@deadmau5) may 23, 2017
"Wow, David Leavitt, 19 people were killed, probably most of them children. What a piece of shit"
@David_Leavitt Some ppl would do anything for Likes or RTs, even lowering themselves to making cruel jokes about tragedy that claimed the lives of children
— Catherine Gill (@theDirtyVegan) 22 may 2017
"Some are ready to do anything for likes or retweets, even humiliate themselves cruel jokes about the tragedy that took the lives of children"
@David_Leavitt pic.twitter.com/1by6v4T9Kl
— Josh Sánchez (@jnsanchez) 22 may 2017
@David_Leavitt Your friends and family are ashamed of you right now
— Matt Lucas (@RealMattLucas) on 23 may 2017
"Your friends and family right now ashamed of you"
@David_Leavitt what the fuck are you even doing. delete these tweets and fix yourself.
— Anne T. Donahue (@annetdonahue) on may 22, 2017
"What the hell are you doing? Delete those tweets and clean yourself up"
@David_Leavitt pic.twitter.com/5q3q8gyLoS
— Caitlin Rose (@TheCaitlinRose) 22 may 2017
"Delete your account"
Only a media reporter could make such a sick joke about mass terror in #Manchester. @David_Leavitt of CBS should be ashamed. Loser! #TCOT
— Jeff Kuhner (@TheKuhnerReport) 23 may 2017
"Only a journalist could let go of such a sick joke about a terrorist attack in Manchester. David Leavitt of the CBS should be ashamed. Loser!"
@David_Leavitt Dude, no. Delete and apologise sincerely to save yourself a shred of grace and dignity. Don't just carry on joking, you plum.
— Mike P Williams (@Mike_P_Williams) 22 may 2017
"Dude, no. Delete the tweet and get a sincere apology to save at least part of his dignity. Don't joke, dumbass"
Really? Maybe @David_Leavitt should PIN his apology to his page 'cuz last I checked, he's using his gross mistake to promote #ImpeachTrump. https://t.co/l0Du98Pn0v
— Jessie Jane Duff (@JessieJaneDuff) 23 may 2017
"Really? Maybe David Leavitt needs to consolidate its apology on the page? Last time I checked, he used his vulgar error to advance"
Commentators have called deprive the field blue tick on Twitter, which means verification of the account.
Time for @verified to drop the blue check on @David_Leavitt. Seems like he's no longer a writer anywhere. Deserves everything he gets. pic.twitter.com/mSimWWo1rh
— Vincenzo Landino (@vincenzolandino) 23 may 2017
Soon Leavitt reported on a large number of received notifications and automatic suggestion Twitter to set the filter.
Checked my phone and got this message from Twitter. Try swearing at me now! pic.twitter.com/TbIXnxhusM
— David Leavitt (@David_Leavitt) 22 may 2017
"Checked my phone and received this message from Twitter. Try to swear at me now!"
Since the scandal around the controversial statements of the journalist first broke, any of his ironic attempts to reduce the degree of discussion took cold. In the end, when it took about two hours from the start of the conflict, Leavitt apologized.
The reporter also deleted the tweet where he said that he almost died from listening to music Ariana Grande. The message mentioning "Starbucks" remained in place.
Sorry 4 offending. Didn't realize the magnitude of the tragedy. I always make stupid jokes about whatevers trending. Condolences 2 families
— David Leavitt (@David_Leavitt) 23 may 2017
"I apologize for the offensive language. Did not realize the scale of the tragedy. I always make silly jokes about something that is trending. My condolences to the families"
Profile reporter stated that he works as a freelancer and collaborates with a number of publications, including CBS, AXS, Yahoo and The Examiner. Users of the social network, addressing both the Leavitt and the American media began to demand his dismissal.
Answers publications, the long wait was not necessary. They are all as one refused to recognize, the field of its employee and repudiated his views.
hi @Yahoo @axs one of your writers @David_Leavitt has posted this tweet in regards to the tragedy in manchester pic.twitter.com/MP9DB6QboD
— titus (@lgbthimchan) 22 may 2017
"David Leavitt never worked for AXS. We don't support this nasty review"
[email protected]_Leavitt does not work for @CBSNews.
— CBS News PR (@CBSNewsPress) 23 may 2017
"David Leavitt doesn't work on CBSNews"
David Leavitt is not a WBZ employee. His abhorrent comments in no way represent the views of our station.
— WBZ Boston News (@cbsboston) 23 may 2017
"David Leavitt is not working at WBZ Boston News. His disgusting comments in no way represent the view of our station"
Looks like @David_Leavitt won't need to worry about employment anytime soon. pic.twitter.com/eDq6ceIHXO
— Philip Lewis (@Phil_Lewis_) 23 may 2017
"It seems that David Leavitt do not have to worry about employment in the near future"
Dismissal, the field was not limited. As it turned out, the media began to remove materials of a reporter-a freelancer from their sites.
@David_Leavitt CBS Local has deleted all of David Leavitt's contributions to their website. Only a trace remains on Archive. pic.twitter.com/rpZzEJrHcd
— Ian Miles Cheong (@stillgray) on 23 may 2017
"CBS Local has removed all material by David field from your site. They are found only in the archive"
AXS appears to have deleted all trace of @David_Leavitt"s existence from their website following his comments about Manchester. pic.twitter.com/aK9V8bOVfJ
— Ian Miles Cheong (@stillgray) on 23 may 2017
"It appears that AXS after a review of David field have removed all mention from its website"
In profile, the field at CBS Boston earlier contained details about his work: it illuminates the life of the city. The journalist told about the restaurants and the best places for skydiving. He repeatedly boasted that during his career he has published more than three thousand materials, and the practice of journalism began in five years.
As recognized by Leavitt, he often tries to make jokes on the trending topics. The reporter has become known to a wide audience because of the jokes about trump in November 2016. Then he was criticized for participating in the flashmob with the hashtag #CalmMeDownIn3Words (Calm me in three words).
"Trump died sleeping" #CalmMeDownIn3Words
— David Leavitt (@David_Leavitt) November 30, 2016
"Tramp died in a dream"
A storm of criticism almost no impact on the behavior of the journalist in the network, who continued to comment and joke about random topics. Several times, the reporter even indirectly responded to the remarks in his address, which also caused a reaction. While this confrontation is not visible.
pic.twitter.com/wdVQrWojvG
— David Leavitt (@David_Leavitt) 23 may 2017
"The Internet is not good enough for you"
When you realize it's only Tuesday #TuesdayThoughts pic.twitter.com/T9E5rn2G0K
— David Leavitt (@David_Leavitt) 23 may 2017
"When you realize that it's only Tuesday"
Comments
comments