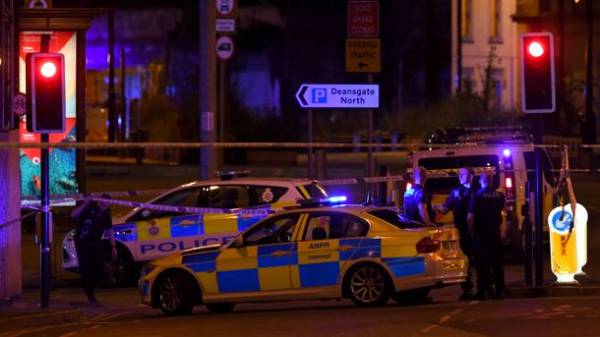 British media, citing eyewitnesses reported two "sounds like explosions" at the stadium "Manchester arena".
"Police responded to reports of the incident at the "Manchester Arena". Please try to stay away from the stadium. Details will follow", said on Twitter the local police.
Television channel Sky News, citing Twiter eyewitnesses reported that the visitors of the concert of the singer Ariana Grande wrote about sounds similar to "shots" or "sound bombs", but it is likely that people mistook for an explosion the sound of a broken speaker.
At the present time arrived at the scene, ambulances and police outfits, other details were not disclosed.
Manchester arena – emergency services rush to scene pic.twitter.com/aC7UIfy27W
— (@MissSh3lxo) 22 may 2017
Newspaper the Mirror reports that after he heard clapping in the stadium started to panic, people started to disperse. In the video, which is currently rapidly spreading in social networks, it is clear that many viewers of the concert holding large balloons, the media did not rule out that the "explosion" was adopted by the sound of a broken near the microphone of the ball.
Currently, according to the newspaper, the scene is at least 10 police cars and five ambulances.
The movement of trains from the station of Manchester in Britain stopped because of the incident, said the train company, National Rail.
"Currently, the movement of trains in the direction of Manchester Victoria station and in the opposite direction, stopped. Some trains will be cancelled altogether or transferred to other stations. Disruptions are expected until the end of the day", — stated in the message train company National Rail.
Also in the Internet appeared the video with the "Manchester Arena", where, presumably, two explosions occurred.
EXPLOSION AT MANCHESTER ARENA AND EVERYONE RAN OUT SO SCARY pic.twitter.com/pJbUBoELtE
— (@hannawwh) 22 may 2017
In turn, the Manchester police called the incident at the stadium "Manchester arena", where visitors reported "the cottons similar to explosions", a serious incident.
"Currently, the emergency services respond to a serious incident at the stadium "Manchester arena". Avoid the area. Details will follow as soon as possible," said city police in his Twitter account.
Stadium "Manchester arena" has a capacity of 21 thousand people and is located to the North of the city centre. According to the website arena, "Manchester arena" is the largest indoor arena in the European Union. The arena was opened in 1995, is among the speakers at the stadium of artists such celebrities as U2, the Rolling Stones, Madonna, and Luciano Pavarotti.
Comments
comments