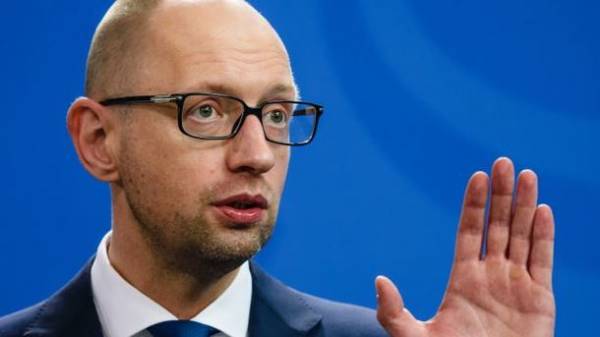 The leader of the "popular front" Arseniy Yatsenyuk said that the main goal of Ukraine is joining NATO to protect themselves from the Russian threat. He said this in an interview with CBC during the working visit to Canada, the press service of political power.
The politician hopes that Canada will provide Ukraine with military assistance.
"The main goal of my country to become a NATO member. Today the Ukrainian army is defending not only Ukraine's territorial integrity – we protect the borders of the countries-members of NATO. Expect the issue of Ukraine will be raised at the summit "the big seven", and we look forward to your (canadian. – Ed.) the government, your Prime Minister, Minister of foreign Affairs in support of the Ukrainian people", – said Yatsenyuk.
He also noted that, despite accusations by the Kremlin to NATO, which, in their opinion, poses a threat to Russia, a threat to the free world is the Russian Federation
"They illegally annexed the Crimea, sent troops into Donetsk and Luhansk in my country. And President Putin has committed an international crime", – said the leader of "popular front".
The politician expressed confidence that Ukraine will achieve its goal and become a member of the Alliance.
"We are very realistic. This will not happen today, or tomorrow morning, or during the next NATO summit. But it will happen. Someone can say that we are wishful thinking. But let me remind you that when President Reagan said "tear down this wall" (Berlin. – Ed.) this wall actually demolished. Nobody believed that the Baltic countries will become members of NATO, but it happened. Nobody believed that Poland would become an EU member – and it happened. And I appreciate the role of Canada and your government. And again, I hope that your government will raise the Ukrainian question, and it will be on the radar of NATO and the "Big seven", he added.
As reported, Minister of foreign Affairs of Canada Chrystia Freeland said during a meeting with Arseniy Yatsenyuk that Russia's aggression dangerous for the world, so Canada will continue to support Ukraine.
Comments
comments