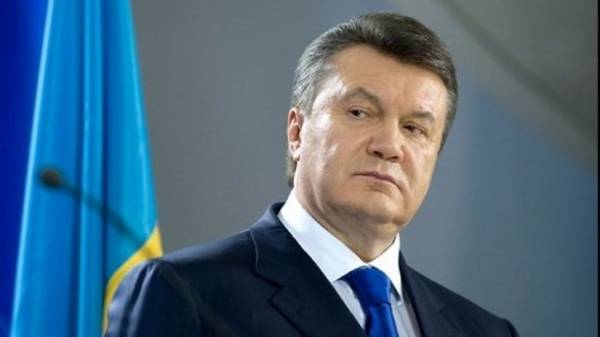 The Rostov regional court of the Russian Federation will organize on 18 may, the video for questioning the ex-President of Ukraine Viktor Yanukovych. This is stated in the answer of the regional court, published on the website, the TV channel "112 Ukraine".
In court explained that he had not received the official address of the Obolonskiy district court of Kiev to assist in the organization of the video with Yanukovych.
Earlier the lawyer Yanukovych Vitaliy Serdyuk said that the plan for the participation of Yanukovych in court only after clarification of the decision on the meeting from may 4.
Earlier today the Prosecutor of the military prosecution, the prosecution on charges of treason Viktor Yanukovych said that the protection of Yanukovych does not need to wait for the call to the Rostov court to attend in court by videoconference.
It was also reported that the justice Ministry had not received treatment from Ukraine on ensuring the video calling former President Viktor Yanukovych with the court in Kiev. Prior to this it was reported that ex-the President Victor Yanukovych on may 18 called on a meeting of the Obolon district court of Kyiv in the case of high treason. Summons Yanukovych published on the portal of judicial authority of Ukraine. Also clarifies that the defense provided by the software's ability to Yanukovych's participation in the preparatory meeting in videoconference mode.
Recall that the Obolonskiy district court of Kiev on may 4 began a preparatory meeting in the case of treason Yanukovych. The defense asked the court to postpone the preparatory meeting, before the decision of the Appeal court to change jurisdiction of a case, but the request was denied. The court also allowed to organize a videoconference to Yanukovych's participation in the session on the case of treason. The next meeting will take place on may 18.
As you know, 14 March the Military Prosecutor's office sent to court indictment against Yanukovych. According to the PGO, he is suspected of committing crimes under part 1 of article 111 ("high treason"), part 5 article 27, part 3 of article 110 ("Complicity in deliberate acts committed with the aim of changing the boundaries of the territory and the state border of Ukraine") and part 5 article 27, part 2 of article 437 ("complicity in the waging of aggressive war") the criminal code of Ukraine.
Comments
comments