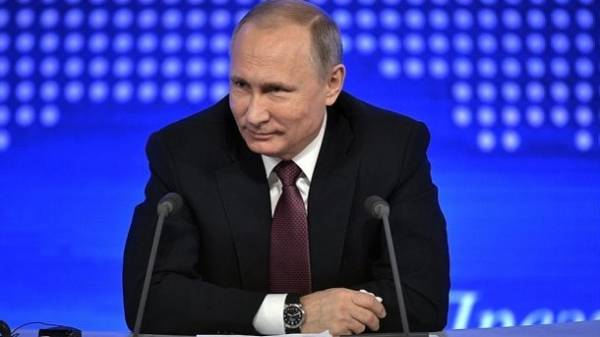 Putin said that Moscow is ready to provide a record of the talks Lavrov with trump, if the administration deems it possible
Russia is ready to provide recording of conversations held in the oval office between the President of the United States Donald trump and Russian foreign Minister Sergei Lavrov if the American administration will not mind.
"If the United States administration will find it possible, we are ready to provide a record of the conversation Lavrov with trump in the Senate and the U.S. Congress", – said Russian President Vladimir Putin at press conference following talks with Prime Minister of Italy Paolo Gentiloni.
"Of course, if the American administration wants," he stressed.
In his opinion, the accusations in the American media, the charges against trump, due to the aggravation of the political struggle in the United States.
"Initially, when we watched this process of the political struggle develops, it makes me laugh. Today it is not just sad, it is of concern to us: because what else can you think of people who generate such nonsense, such nonsense, it is difficult to imagine," – said Putin.
"We see that in the United States develops the political schizophrenia, anything else I can't explain the charges of the incumbent President that he Lavrov issued any secrets" – said the President of the Russian Federation.
"By the way, today I have with him (Lavrov – Ed.) talked have to declare the remark, reprimand, because these secrets he didn't share with us. Neither me, nor with representatives of the Russian special services, it is very bad on his part", – joked the Russian President.
We will remind, on the website of The Washington Post, citing current and former US officials, it was reported that during a visit last week to the White house, the foreign Minister of the Russian Federation Sergey Lavrov and Russian Ambassador in Washington Sergei Kislyak President of the United States, Donald trump told them the secret information. The white house has denied reports about the trump disclosure of classified information at a meeting with Lavrov.
Later the New York Times, citing a source reported that the source of classified information that the President of the United States, Donald trump told the Russian foreign Minister, Sergei Lavrov, was Israel. At the same time, the Israeli authorities do not confirm information about the fact that Israel is the source of the secret data, which was subsequently transferred to Russia.
Later it was reported that Donald trump during the meeting, Sergey Lavrov informed him of the intentions of ISIS militants blow up a passenger plane, which would fly in the US. For these purposes, the militants had hoped to use hidden in the body of the laptop is the bomb.
Comments
comments