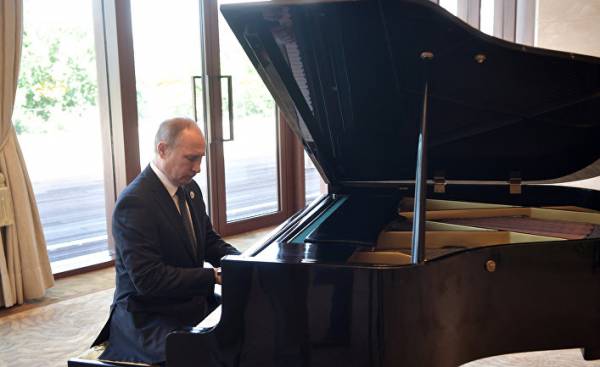 It happened on Sunday, before meeting with Chinese President XI Jinping. A few minutes of waiting, Vladimir Putin used to sit around the piano, or, more specifically, at the piano.
One or maximum two fingers, he played two songs from the Soviet times: "Moscow Windows" and "the City over free Neva", the famous song of world war II (SIC — approx. ed.).
"Our President is the best!"
Always located next to the Russian President's press Secretary Dmitry Peskov recorded the whole thing on video, and then made sure to spread the video in social networks.
Then the video began its triumphant March across all social media and on all TV channels. It is difficult to say how many millions of people watched it, but the comments to this amazing side of the Russian President, like a flood poured out.
"Our President is the best in the world", wrote on Facebook someone named Vitaly. And Rania believes that Putin has thus "demonstrated that he is a man capable of genuine feelings."
"A capable secret agent," wrote someone in Weibo, the Chinese microblogging service, referring to Putin's past in the Soviet secret police, the KGB.
Complained the piano out of tune
Vladimir Putin has never been afraid to pose: either on the Mat for judo, neither on horseback nor on trikes among the flying birds or while hunting a tiger.
Last week everybody's attention was attracted by his appearance at the hockey arena of the Olympic village in Sochi in connection with his 64-year anniversary, where he was in a demonstration match scored six goals.
But in the video from Beijing, we see a completely different Putin. The President, who looks a bit ridiculous, Wade through the melancholy notes of two Soviet songs before shutting the lid of the piano and say enough.
"I thought that the video Peskov was just for personal use, but that it is now published, there is nothing wrong," said Putin at a press conference in Beijing after "The piano man Putin" became a hit on social networks around the world.
"I can't say that I've played. Just press a key with your fingers" — confessed to Putin, who also ironically complained that the piano was not tuned, so to play it was difficult.
The elections in 2018?
Vladimir Putin has created an image of a strong leader, who is in good shape. Softer features of his nature he shows infrequently.
In 2010, Putin participated in a charity event and sang in English a song fats Domino "Blueberry Hill", but the performance at the piano on Sunday, no doubt, is something new.
Vladimir Putin runs Russia 17 years after he accepted the post from Boris Yeltsin on new year's night 1999.
During a press conference in Beijing, he did not give a clear answer to the question of whether to nominate his candidacy in the presidential elections to be held in the spring of 2018.
Comments
comments