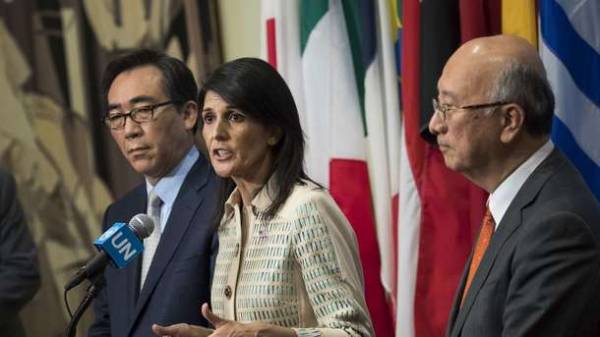 US Ambassador to the UN, Nikki Haley said Tuesday that the United States look forward to the dialogue with the DPRK, however, before Pyongyang should stop nuclear and missile tests.
"The United States wants dialogue, but not to the point, until we see a full stop its nuclear program and any tests," she said.
She called the leader of the DPRK Kim Jong-UN "paranoid", who believes that the speech allegedly goes about plans to overthrow the political system in the DPRK or the physical elimination of Kim Jong-UN. Haley stressed that such plans, and the UN just want "peace on the Korean Peninsula."
"He (the leader of the DPRK – ed.) is obliged to stop the test. He is obliged to stop any nuclear programme, which he is," she said.
She noted that it is necessary to send a signal to the DPRK, calling for an end to such actions and provide diplomatic, political and economic pressure on Pyongyang.
According to Haley, in the circumstances, the United States will continue military exercises with South Korea and support of Japan for the protection of these countries.
It has also threatened sanctions to those countries that can support North Korea.
"If you support North Korea then you are against the rest of the international community," she said.
Comments
comments