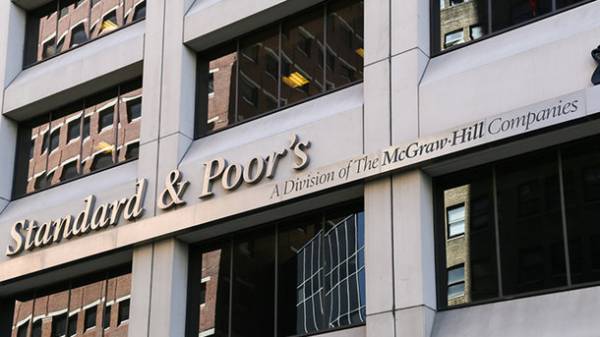 The international rating Agency S&P Global Ratings evaluates the credit institutions of the principal amount and interest on the obligations during the 2017-2020 years, more than $ 20 billion, or about 21% of GDP in 2017, according to a review of S&P, reports.
The Agency expects that Ukraine will fully perform its short-term liabilities on sovereign debt in 2017 (according to S&P, the country will have to pay 2.6 billion dollars) in 2018 (3.9 billion dollars), taking into account the funds from official creditors, the existing reserves of foreign currency, the NBU and the government's ability to raise financing in the domestic and foreign markets.
S&P also expects this year's successful placement of Ukrainian government Eurobonds that will allow you to test the market situation.
At the same time, noted in the review of the Agency, payment of the obligations in 2019 in the amount of $ 7.5 billion, mainly repayments on sovereign Eurobonds and payments to international financial institutions, including $ 1 billion to the United States Agency for international development (USAID) – still depend on the ability of the government to carry out reforms required by the IMF program, and the ability to refinance part of the debt using funds raised on international markets.
S&P also notes the large volume of contingent liabilities of the country, which is currently pending in the courts: release of Eurobonds Ukraine $ 3 billion dollars, the holder of which is Russia, and the claim of "Gazprom" to "Naftogaz" in connection with non-payment contract "take or pay" (take-or-pay) to $ 31.8 billion.
To remind, S&P affirmed the long-term and short-term ratings of Ukraine in foreign and national currency at "B-/B".
Previously, S&P gave a forecast for the hryvnia exchange rate until 2018. In addition, in February, the Agency estimated Ukraine's banking system as risky.
Comments
comments