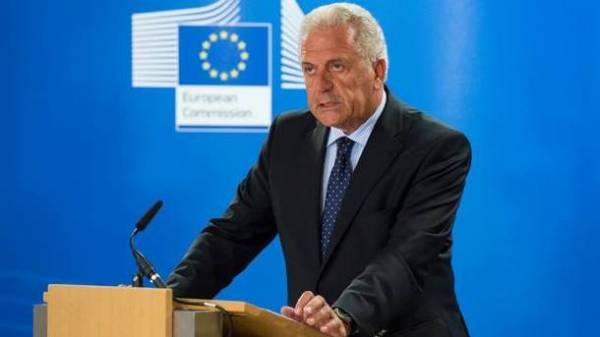 The European Commissioner for home Affairs Dimitris Avramopoulos pleased with the decision to grant visa-free regime for Ukraine and noted the implementation of reforms in the country. It is reported by his press service.
He congratulated the Ukrainian government for the efforts which led to a long-awaited result.
"A year ago I was in Kiev to personally congratulate the Ukrainian government for the enormous efforts they have made to implement the reforms outlined in the framework of the liberalization of the visa regime. Today I'm glad to see that we are approaching the end of the process, and I welcome the adoption by the EU Council (decision) on the liberalization of visa regime for Ukraine – final step towards a visa-free regime in the Schengen zone for citizens of Ukraine", – stated in the message of Avramopoulos.
He noted that Ukraine went a long way and today's decision of the EU Council – a recognition and reward.
"Now it is important to maintain this progress (of reforms in Ukraine – ed.). The European Union is ready to continue to provide support and assistance to the Ukrainian authorities in this matter. Visa-free regime will bring significant benefits for citizens on both sides. It will strengthen social, cultural and economic relations between Ukraine and the EU", – added the Commissioner.
We will remind, today the Council of the European Union approved the granting of a visa-free regime for Ukraine – it was the last of the European court, which had to make a decision on granting Ukraine the visa regime liberalization.
Earlier it became known, in what countries of Europe will act bezviz. Just for the free travel in the European Union and the Schengen visa for Ukrainians will be available in 30 countries.
The website "Today" to understand all common questions regarding visa-free regime with the European Union – what it means and how it will operate.
Comments
comments