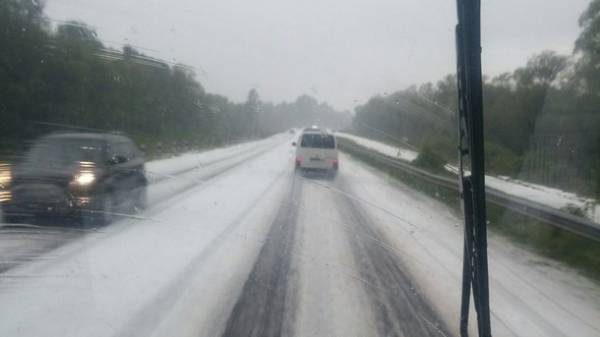 Today's weather gave the Ukrainians a new surprise — in several areas of the country the snow fell. In particular, nature was capricious in the capital and in Chernihiv. The news of this unusual event may instantly spread in social networks. Surprised users actively post ironic comments and photos against the backdrop of flowering chestnuts are falling fluffy snow flakes. But if in Kiev passed the snow only in some areas of the city, on the highway Kyiv — Chernihiv was a small snow, and in the Chernihiv region was a full-fledged snowfall.
One of the wearer Facebook Anna Zaitseva says that
the last time snow in may was in 2007. "I well remember… the Whole day revived the koi. We then, honestly, was in shock, poured well," she writes.
And, really, this weather anomaly has happened before. So, in 2012 in Ukraine last month of spring, also brought wet snow, and in may last year, snow covered Kremenchug. In addition, in 2013, a few days before the beginning of the summer storms have disturbed France, Belgium, Italy and Spain. Then the French weather forecasters have recorded a record for the first time in 125 years of meteorological observations air temperature in may dropped to 4 degrees Celsius (at an average rate of 16 degrees). In Ukraine, the coldest may was in 1919, with an average temperature of 10.9 degrees (at a rate of 15.5).
The cyclical nature of these phenomena is confirmed by the weatherman. "Cold in may — this is an ordinary case. Frosts in may are often, and the snow falls every three or four years, — told "Today" head Ukrgidromettsentra Nicholas Kulbida. — This is due to invasion of Arctic cold air masses". Also, the forecaster added that on Friday in Ukraine will become warmer, and snow will change to rain. No luck just the Western regions of Ukraine — there is a slight freezing is from 0 to 3 degrees Celsius before the end of the week.
Comments
comments