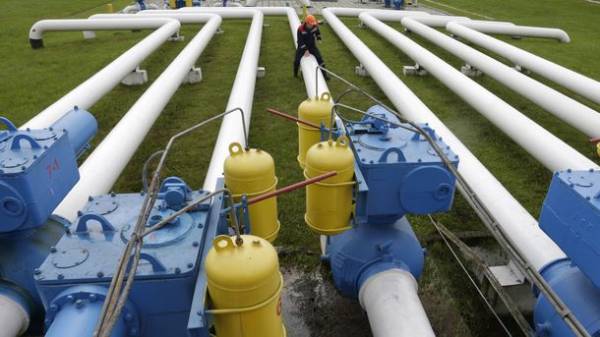 The lowest price for the supply of five drilling rigs in the tender of the subsidiary suggested that the German Bentec. The estimated amount of the contract — 3 549 billion. Now the customer has 21 days to review and evaluate all conditions of the option contract. As stated by Executive Director of Bentec Dirk Schulze, parts will be produced on the territory of Ukraine by the enterprise Discovery is one of the logistical advantages of the company.
Operational information of "Ukrtransgaz" shows a slight growth of the production figures for the first four months of this year compared with the same period last. The company increased production by only 2%. The difference between the indices of UGD for 2016 and 2017 amounted to 120 million cubic meters of gas. The company plans this year to increase production from 500 to 700 million cubic meters.
The issue of provision of its production is especially important, in particular, and amid reports about an agreement between Gazprom and European partners — Engie, Royal Dutch Shell, OMV, Uniper. The last two companies report that in 2017, ready to Finance EUR 285 million for long-term lending for the completion of the second branch of a gas pipeline bypassing Ukraine. The next step for the project "NordStream 2" will permit the construction of a pipeline in the waters of Sweden and Denmark. At this stage, the project may again pritormozite for some time. According to Yury Vitrenko, commercial Director of "Naftogaz", starting in 2020, Ukraine will be able to offer European transit countries the most attractive prices for the use of the GTS, but this requires the loading of gas pipelines in the amount of 110 billion cubic meters of gas per year.
According to "Ukrtransgaz" the flow of natural gas through Ukraine's GTS for the four months increased by 22.5% in comparison with indicators of last year. The volume of transit of gas to Europe during a specified period exceeded 29 billion cubic meters.
The protracted reform of the Ukrainian gas transportation system and transfer of control of PAO gas pipelines of Ukraine starts the ball rolling. Vice Prime Minister-Minister Vladimir Kistion announced and developed the plan for the transfer of property "Ukrtransgaz" new operator without burdening the tax and financial costs. Implementation of the plan will be possible within 30 days after the entry into force of the final decision of the Stockholm arbitration court on the dispute between "Naftogaz" and "Gazprom".
Regal Petroleum announces plans to resume work on a mothballed gas-condensate well in Sviridovskiy field in Poltava region. The work will be conducted under the agreement with PJSC "Ukrnafta".
The Cabinet and the energy Ministry have filed appeals to the decision of the courts recognizing the right Yuzgaz B. V. to work under the PSA on the Yuzivska area. Consideration is scheduled for may 8.
Comments
comments