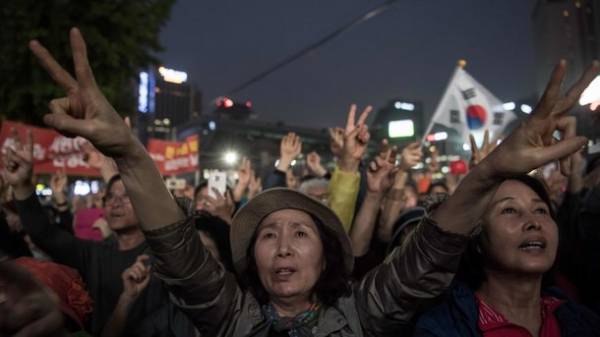 In South Korea at dawn on Tuesday has opened the polls for presidential elections that are held prematurely due to the impeachment and removal from power in the country of ex-President Park Geun-Hye.
According to the CEC of the Republic of Korea, all contestants will operate 13 964 polling station. Just in this election was nearly 42.5 million voters.
The voting will end tonight at 20.00 (14.00 GMT). But for about 15:00 is expected to become clear who will be the winner.
According to a recent poll, the main contenders for the presidency moon Jae In of the Democratic party, which was supported by 42.4% of the respondents, Ahn Chul-soo from the centrist "people's party" of South Korea and a representative of the conservative forces hunjoon PHE, whose ratings did not exceed 18,6%.
New South Korean President will take office on may 10.
Ex-President Park Geun-Hye, daughter of former South Korean dictator Park Chung-Hee, was removed from power in March this year by the decision of the constitutional court and the impeachment made by the Parliament at the end of 2016. Park Geun-Hye accused of abuse of office and bribery in connection with the scandal around her closest friend Choi sung-SIL. This person allegedly interfered in the Affairs of the state for profit without occupying any public office.
As previously reported, on may 4-5 in South Korea passed early voting, according to the adopted in 2014 the law that allows all interested citizens to vote before election day, regardless of the reason, to increase voter turnout.
The order on elections will follow 84 414 police officers, accounting for 60% of their total number throughout the country. They will guard polling stations, 251 and item counting.
Elections in South Korea are held on the background of acute confrontation with the DPRK, against which, as recently stated by the President of the United States Donald trump, can be applied any measures if it were to continue "provocation", that is, nuclear and missile tests.
Military command in South Korea said Monday that the armed forces retained a high degree of readiness in the event of "provocation" of the DPRK during the elections of the President of South Korea.
However, the DPRK Central newspaper "Rodong Sinmun" has called for elections in South Korea to improve inter-Korean relations.
"The aspiration of our people for peace was ruthlessly crushed by conservative groups, the manic supporters of confrontation", — the newspaper writes. According to her, it is time to put an end to confrontation between North and South and "open the way to a new era of reunification".
Comments
comments