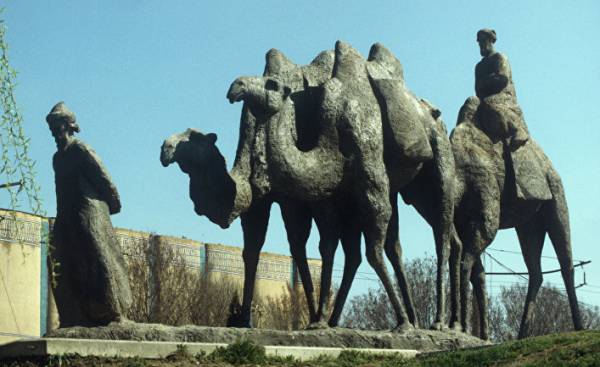 Beijing — Why Western commentators with biases of the cold war, look at the Chinese initiative "Belt and road" Economic belt of the silk road and Maritime silk road of the 21st century and call it a modern version of the American Marshall plan aimed at rebuilding Europe after the Second world war? For such comparisons lies the mentality of "zero-sum game".
Some people do not believe in the strategic motives of China, claiming that this initiative is a geopolitical instrument to ensure its dominance in the region and create new spheres of influence. Others oppose the initiative because they are afraid to lose the leading position in the global financial system.
However, Western skeptics could not see the fact that China is against the mentality of "zero-sum game" and supports the concept of mutual benefit. Confucius once said, "anyone who wants to succeed must help others become successful." Initiative "Belt and road" put forward by China, is focused for the benefit of all.
Modern "Belt and road" construction in regions where were the ancient routes, is a transnational network connecting Asia with Europe and Africa and aims to promote the common development of all countries to support the initiative.
Unlike the Marshall plan, the participants of the "Belt and road" not put no political conditions. China has always advocated that all countries should respect each other's rights to independently choose their own social systems and development paths.
Based on the principles of equality and mutual benefit, China in collaboration with its partners, the accelerated pace of promoting the construction of road networks, promote trade and investment, promote tourism and strengthen mutual understanding between people.
Openness, inclusiveness and mutual benefit — especially the initiative "Belt and road", through which she won the strong support of the international community.
Since 2013, more than 100 countries and international organizations responded positively to the initiative. It has signed about 50 intergovernmental agreements on cooperation. In March New Zealand the first of the developed countries acceded to it.
Chinese companies invested over 50 billion dollars and built a 56 areas of trade and economic cooperation in 20 countries along the "Belt and road", creating a total of 180 thousand jobs for residents of those States.
How could China succeed in slowing the pace of economic recovery, the weakening of international trade, as well as a regression in the process of globalization?
The answer lies in the rejection of the "law of the jungle" hegemony and policy of "zero-sum game" and in the spirit of cooperation, partnership and sharing.
Initiative "Belt and road", focused on responsibility, win-win cooperation and sincere aspiration to joint development, gave the world the response of China to the challenges of modernity, a balanced, fair and comprehensive model development.
Comments
comments